Ghost Adventures – Crisis in Oakdale – S17E03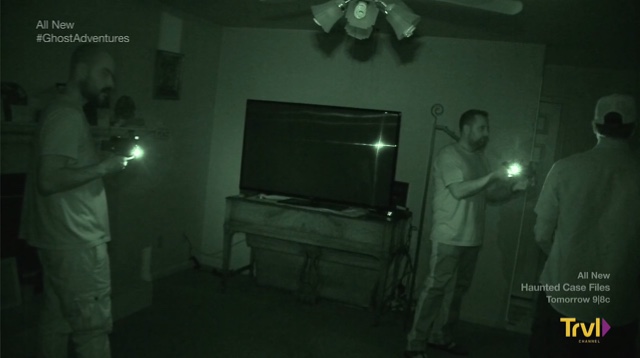 The next investigation takes place in Oakdale, California, where Zak meets with Karon, a woman who feels a dark cloud of tragedy hangs over her head. Karon explains that her son recently took his own life in the house. Previously, Karon's fiancé, who lived in the house, was found strangled, believed to be suicide. Additionally, her mother, also died of suicide. Finally, her grandmother was institutionalized for talking with the dead. It's also explained that the first owner of the house, was killed in an accident on the Colorado river. The link? An evil house.
Karon feels her son's energy is still in the house as people get touched, doors close, and there is a presence as though something is trying to attach itself. Karon's daughters also feel an energy within the house. The claim to have darker experiences such as the feeling of overwhelming anger, and that Don was prone to fits of violence for no reason. Both daughters and Karon explain they have had violent nightmares and visions of rotting people.
Both Michael and Don were known to say they needed to get out of the house as though something were driving them away.
The investigation starts in the usual way with Aaron saying he doesn't feel well and that his heart is racing. This is followed by feeling a cold spot surrounding them. On the stairs they get a spirit box voice saying, "can you help" while Zak says something touched him on the butt. Oddly, a door that no one can see closes on it's own.
Because of the spirit box, Karon is brought in. She claims the voice is Michael and admits that she told her son to touch Zak on the butt. An odd request.
They claim to get the word, "mom" which Karon claims is her son Michael speaking. When they head to the bathroom where Michael took his life, they feel a cold spot.
Chris Fleming comes in and immediately feels anxious. He feels the spirit of both Michael and Don. But there is more to this story.
Chris says he can see Michael walking around the house, which they feel is confirmed by the sounds of footsteps. In addition to Michael, there is a female presence. Karon concludes this is her mother. Chris feels Don is a dark presence and won't let Michael leave. The female spirit is helping Michael.
As Zak checks out the room with the SLS camera, he gets a stick figure trying to hit Chris. The is followed by the front door, closing on it's own.
After checking out the door, they head to the top of the stairs and are overwhelmed by a blast of negative energy. No surprise, Billy says he's going to pass out and bolts out from the house. Aaron is writhing on the floor, struggling with the pain.
On the spirit sweep device they get, "It hurts when I", "one time" and "I'm human". Then an odd phrase of "dimension disrespected", which confirms the device spits out gibberish on a regular basis.
Finally, as we get to the end, and to prove there is negative energy in the house, Zak lashes out, grabs a camera and throws it down. Oddly, no one seems startled or scared by his tantrum. "Yep, there's goes Zak breaking stuff again."
There is no doubt Karon has suffered through several tragic events. However, suicide is not the work of dark spirits. Some may call them demons, but they are the demons of mental illness or overwhelming depression. While Karon says Don was angry but had a heart of gold, it sounds like he had some anger issues, mental problems, or another condition that should have been diagnosed and treated.
We also have the very real crime of what sounds like child molestation. It wasn't the demons that drove Michael to do something so terrible, it was the shame, guilt, anger, or even threat of what may have happened to him.
This family needs counseling, it needs mental health guidance, and there needs to be some investigation into some earthly crimes. Don sounds like he has his own problems, and who knows how else they manifested. Instead of blaming "the devil", get some help and get closure through justice before someone else gets hurt.
One Response to Ghost Adventures – Crisis in Oakdale – S17E03