Ghost Adventures – Lewis Flats School – S16E08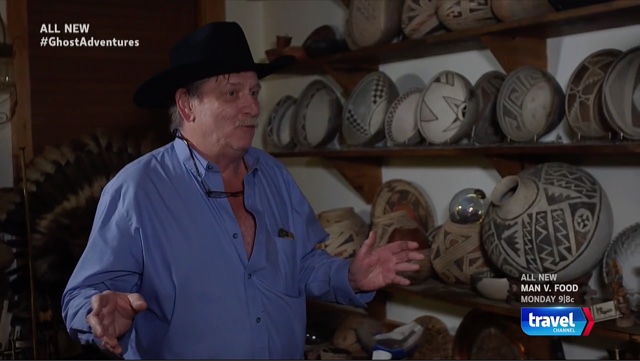 After their dubious encounter and contact with Debbie Constantino at the Washoe Club, Zak and the GA team undertake an investigation at the Lewis Flats Elementary School, or rather, the Adobe Deli Steakhouse.
Because it sits in New Mexico, there is an immediate connection to the Native American culture. Further, because it has a lot of taxidermy, it must contain a lot of negative energy.
The signs of the paranormal consist of someone getting the chills and an employee waking up from a bad dream and feeling pressure on his chest. Another incident, one that took place 30 years ago, involves a man that burned to death when his overheated engine caught the dry grass on fire.
Zak focuses very heavily on the taxidermy Van bought at auction. It's not the items themselves, but their guilt by association, as they came from the home of (or at least were owned by) a drug dealer who killed two people. Even though they are stuffed and have glass eyes, Zak feels the animals saw the murder and so contain dark energy.
There is even more dark energy and another connection to Native Americans in the form of bowls with a "kill hole" in the center. These bowls were used to allow the spirit to be released from the body. Zak makes them out to be quite dangerous and not something someone should own. He even declines holding the bowl.
That is until we later find out he buys one for his own collection and then has no problem being photographed while holding it.
At this point, evidence of the paranormal and dark energy consists of someone feeling cold,  another waking from a dream, stuffed animals and pottery.
To start the investigation, we have Aaron trying to make contact in the dining area near the bar. When Aaron hears a noise, he stumbles over himself trying to make an escape. Right after that, the Ovilus gives the words, "Tease, Alter, Curse" which they quickly tie back to the bowl Zak bought. We'll skip the part where "alter" is spelled incorrectly. That is if it was meant to refer to an "altar".
This series of words is followed by "knife, wish, disease". Before they can weave a story using these words, a shadow passing by the window makes them run outside where they discover broken animal bones. Zak then makes the conclusion they're in Skinwalker country.
Then, to add to the mystery of the night, they see a glowing set of eyes in the field. These glowing eyes belong to a discarded aluminum can and proves how easily someone can be deceived.
Back in the bar, they find what caused Aaron to soil his pants. A knife fell to the floor. But since it was a knife and the Ovilus said knife, paranormal activity is afoot. And to further their belief, a sign reading, "It's all about me" is found on the floor.
Because of the message and because its near a painting of Native Americans, they make the connection that restless spirits are at the heart of the activity. Additionally, Zak sees multiple light anomalies, including one that flies into Aaron. Zak believes this is what caused the cut on Aaron's head, rather than it being something he got when jumping out of his skin and tripping on furniture. Though minor, it's a sign of an attack.
Their evidence for the night includes old, discarded bones in the dirt, a fallen knife on the floor, a discarded can, some foreboding words on the Ovilus and the tiny cut on Aaron's head.
These don't exactly lend themselves to dark energy or sinister forces. Additionally, taxidermy, while creepy to some, isn't considered a gateway to paranormal forces. Same for the bowls. While used in burial ceremonies, they alone are of no danger, to the point where Zak picks one up and takes it home.
Other Articles of Interest: