Ghost Adventures – Idaho State Reform School – S17E01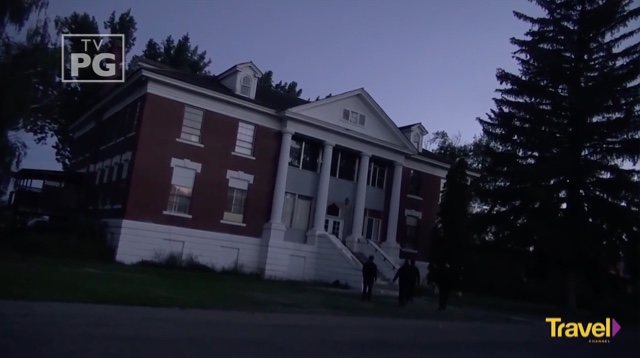 With the Graveyard of the Pacific behind them, Zak, Aaron, Jay and Billy kick off another season with a visit to the Idaho State Reform School, which has now been converted into family living.
The original Idaho Industrial Reform School was established in 1903 and was home to many wayward youth. Like so many other facilities of the time, it's safe to say this one did more harm than good. With allegations of abuse, mistreatment, and even deaths, the school was ultimately closed. However, on the grounds are 20 graves and at least one report of suicide by a girl who was 14.
Zak talks to Barrett and Demi, who have a few stories to tell, one of which involves bite marks on Demi's arms. Barrett introduces his brother Magnum, who apparently has a close relationship with a few spirits, including one that has taken up residence in his room. "She" protects him from the spirits in the infirmary, the building next door, because they are mean to Magnum.
The story of spirits in the infirmary is also discussed by the Gould family who used to live there. But it's not just a shadowy figures or a mass darting around the corner, the sisters claim they used to play with the ghost girl as though she were a real child. And when one of kids got locked in a cupboard, the ghost of a doctor was the one who undid the latch and let her out.
For the investigation, Zak tries to make contact with Hope, the girl who committed suicide, by bringing her some candy. Aaron seems rather moved and gives Hope a heart felt "thank you" for watching over Magnum and keeping the mean sprits away from him.
While Hope doesn't take any candy, the SLS camera picks up a stick figure against the wall for just a moment. To go along with her appearance on the hacked up camera, they get the words, "Happened", "Touch" and "Sing" on the Ovilus. The first two words don't paint a good picture.
As Aaron moves on to investigate on his own, he gets "Girl", "Female" and "Electric". This last coincides with the power drains they begin to experience on their equipment. At least we don't have Billy freaking out and yelling in frustration.
To get a feel for what it's like to be in the isolation room, Zak tricks Aaron into going in, then locks the door. Not only was this an ass thing to do, it locked Aaron in as there is no way to open the door from the other side.
Zak ditches Aaron and goes to investigate the infirmary. He and Billy get "we're back" and a set or orbs. There is a lot of focus on orbs these days.
Feeling he needs to check on Aaron, Zak ditches Billy, who doesn't want to stay in the building by himself even though he's a grown man. Aaron has a bit of revenge as he absolutely scares the hell out of Zak, who more than likely soiled his pants, when Aaron jumps at the door and fills the room with his maniacal laughter. Zak also describes a light anomaly creeping along the wall just before he gets to Aaron.
In the infirmary, Billy starts to feel something is around him. Like episodes before, he starts to feel angry and frustrated. While he doesn't lash out and throw equipment he's letting the place get to him.
As a final shot, Billy captures another light anomaly on his phone that hovers for several seconds. Not sure why he had to use his phone, but that's the way it worked out.
It would be hard to argue that life at the school was not pleasant, the "pure terror created by man" as Zak put it, really doesn't present itself. For two buildings full of spirits, with at least one that's a biter, the evidence and experiences are almost non-existent.
Other Articles of Interest: