Expedition Unknown – Kalahari Desert Lost City – S02E13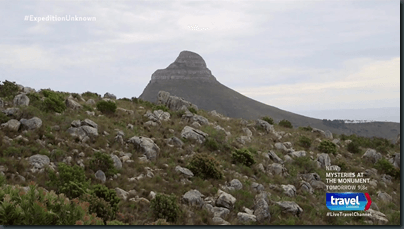 For this episode, Josh is pulling out all the stops to look for the Lost City of the Kalahari. At first glance, this comes across as a laughable story told by Guillermo Farini, a circus performer and showman. While out on the plains of Africa, he came across a city buried in the sand. To prove his claim, he brings back sketches, pictures and stories, but the map is geographically incorrect, Farini is known for exaggerating the truth and giving it a bit of flair and he has no real evidence to show the city. His claim is largely dismissed and even though others have gone out into the desert to search for the city, nothing has been found.
Josh starts his trek by sailing into Cape Town, South Africa. He visits the National Library of South Africa where he talks with Michael Main to get more information. Farini was a showman, prone to oversell the truth, but he was by no means an idiot. In fact, according to Main, the parachute and the folding theater seat can be attributed to Farini.
Farini was a high wire performer and while looking for bigger and better acts for the circus, he hears about the Pygmies of South Africa and feels it's the next big thing. He heads off with his son to locate them. In the library, Josh is able to see the book Farini published of his travels, photos he brought back, sketches and even the transcript of the lecture he gave to the Royal Geographical Society. It claims to be a 1000 mile journey that took Farini all the way to what is now Botswana.
With a clear reference point, Josh gets his hands on a sweet truck, tricked out with goodies such as stove, shower, refrigerator and sleeping accommodations and sets out to meet Adam Cruise. Adam has been on the trail of Farini for some time and not only believes the lost city is real, but that people are looking in the wrong place.
Josh first heads to Upington, to visit the archives. This is a location Farini was known to be in and they can confirm some of the landmarks from the photos. Their goal is to follow in his footsteps and confirm the places he actually documented.
Josh is able to find newspaper articles from the day which say very little about the discovery of a lost city. After being in the desert for 8 months, Farini glosses over these details as though they will come later once he's had time to get his story straight. A story he was planning to publish on his own.
At this point, the story seems a little far fetched. They have dodgy source material, almost no details about the discovery from the man himself and it all stems from the word of a man who has made a living from his gift of exaggeration. But undaunted, they press on because Adam has an idea.
As they move away from the city they begin to see some landmarks referenced in Farini's journals. He speaks of the crumbled wall of a city and low and behold, Adam and Josh find what looks to be a match. However, up close, it's jujst rocks in the desert. But they both agree, that from a distance, they look to be man made and match Farini's description. This tells them they're in the right area where Farini would have been traveling.
With this in mind, Adam explains that he doesn't believe Farini went as far into the desert as he claimed. The calculations don't add up for him to travel that distance in the amount of time mentioned and with the supplies in tow. Adam believes they need to look much closer to the starting point and only slightly into the interior of the Kalahari.
It sounds perfectly reasonable and they are soon able to locate a couple of other landmarks from the pictures taken on the journey. Since Adam believes this is the area they need to search, he's made arrangements with a crew to use radar to take aerial scans. Josh and one pilot go up in a gyro copter looking for the landmarks Farini described. Adam and the pilot will follow in the plane and scan the respective areas.
They find a crescent shaped area and what appear to be man made structures. They mark the areas and investigate on foot. The main landmark was a waterfall and they find one which matches the photos. The head in and find what is essentially an oasis. This would be an ideal location for a settlement.
Without much trouble, they find the crescent shaped walls and a hut or other small enclosure. Regardless of their intent, these clearly aren't natural and are part of some settlement. The aerial scans showed a more defined settlement close to their location, so hoping to meet some settlers they head in that direction. Out of nowhere, as is the way of these things, they meet two men traveling back to their village. Josh and Adam ask about other structures in the area and are taken to see the remnants of a road or at the very least, a pathway. Again, more man made features.
Adam also realizes the trees in the area match those in Farini's photographs. They bring one out to compare and it's the same kind of tree, with the same kind of background and the same kind of features. From all the signs, they are in the same place the picture was taken. And at this point, Josh asks if there is any other evidence of an old town. Sure enough, Lionel points them toward stone etchings depicting the animals of the area and turn out to be around 1000 years old.
It's pretty clear they're in what used to be an ancient settlement, inhabited by hunters who had the basics to build structures. It's a pretty reasonable conclusion this is the Lost City and while Farini was prone to exaggeration and boasted of traveling much further than he did, it seems clear he did indeed find a lost city in the Kalahari. So even though Farini comes across as Mr. Crazy Pants, he was telling the truth the whole time.
Other Articles of Interest:
5 Responses to Expedition Unknown – Kalahari Desert Lost City – S02E13