Pro Zombie Soccer for iPhone/iPod Touch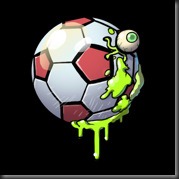 Just because the paranormal shows aren't on doesn't mean we have to run our backs on the Evil Dead. And what's more fun that combining the thrill of the World Cup with Zombies? Damn right! Pro Zombie Soccer!
Description
66% OFF WORLD CUP LAUNCH SALE!!! Like zombies? Love soccer? Well get your soccer gear on, 'cause it's time for PRO ZOMBIE SOCCER from Chillingo and Super Awesome Hyper-Dimensional Mega Team!
No one ever needed an excuse to go out and kill zombies. Or to kick a soccer ball around. But if you want an excuse to kick a soccer ball into space, realign an orbital weapons platform and launch a death-ray to explode the heads of the zombies sneaking into your soccer field – then THIS IS IT!
NON-STOP ACTION
Pro Zombie Soccer's intuitive control system offers a torrent of incredibly deep, satisfying and addictive zombie-blasting action, from free kicks to full orbital assault! This is high-quality iPhone gaming at its best.
BIG AND FUNNY
A horde of unique zombies; a locker full of cool abilities, combos and rewards; a laugh-out-loud twisted story that spans a series of varied, original and surprising levels … you won't want it to end! It's lucky the game's SO BIG.
STUNNING GRAPHICS
High-resolution visuals, fluid animations, and all the gore you'd expect from a zombie game! Incredible characters, environments and comic-style set-pieces draw you into a surreal, immersive world.
ORIGINAL SOUNDTRACK
Beautiful graphics and addictive gameplay are accompanied by a full, powerful new soundtrack from Badolatomusic.
Designed just for the iPhone, Pro Zombie Soccer comes from a brand-new developer whose founders helped create the super-addictive classics 'Plants vs. Zombies' and 'Worms'. Find out what the critics are raving about:
"Exactly the kind of cute yet hyper-violent entertainment we love" – PocketGamer
"A ton of fun … incredibly detailed … incredibly rewarding" – TouchArcade
"You'll smile from watching limbs and heads fly off" – Slide To Play
"You will want to own this game. … Killing zombies hasn't ever been this fun or creative" – No
DPad
"The art style and graphics here are great … this will be a must-buy" – Loot Ninja
"Entrancing … a simple-yet-scary, … breathtakingly tempting game!" – TechGadgets
Oh, and… have you ever been BITTEN BY A ZOMBIE? Because that's how the story begins…
http://www.prozombiesoccer.com

Other Articles of Interest: