Looking for some new games that speak to the atmosphere and mood of Halloween? Well, here are some real gems that will give you plenty to do while you indulge the inner macabre.
Zombieville USA
When your town is overrun by the walking dead, there's only one thing left to do – go through their pockets and look for loose change! As the lone survivor of a zombie apocalypse, it's up to you to battle legions of the undead in a never ending fight for survival! How long can you hold out? Scrounge for cash and ammunition, and buy up to 15 upgradeable weapons as your inevitable doom closes in around you…
Zombieville USA 2
Zombieville USA – this sequel is jam packed with content and features. Take command of your favorite character, customize them with a spectrum of weapons and skills, and do battle with the living dead – either alone, or with your friends!
Bloody Mary Ghost Adventure
Bloody Mary is a mix of scary adventure game with interactive novel using an innovative system based on the IPAD Real-Time Clock, you have to be at the right place in the right time to see things happening and they will!
The Bloody Mary Ghost Adventure presents a new way of entertainment, creating a personalized experience for each user. Imagine being part of a story and, with your own perceptions and choices, write their end.
The story is divided into chapters (releases free in updates). As a novel, the course and its end are undefined and will depend on your choices.
Redemption Cemetery: Curse of the Raven HD (Full)
After getting into a car accident, you wander into a mysterious graveyard while searching for help. The doors slam shut behind you and you realize that you are trapped! Escape from the eerie Redemption Cemetery by helping trapped spirits save their loved ones, and free their souls! Use your Hidden Object skills to help these ghosts and escape, in Redemption Cemetery: Curse of the Raven!
Mystery Case Files: 13th Skull HD (Full)
Shortly after moving into a creepy mansion in Louisiana, Sara Lawson is struck with tragedy when her husband mysteriously disappears. Sara's daughter, Magnolia, believes her father was kidnapped by the ghost of a vengeful pirate seeking to protect his lost fortune. With the locals terrified of the pirate's curse, you are the family's last hope. Only a Master Detective with incredible Hidden Object skills can locate Marcus Lawson in Mystery Case Files: 13th Skull!
Midnight Mysteries: Salem Witch Trials (Full)
Explore 10 adventurous missions in stunning HD in this intriguing hidden-object adventure game. The famed writer Nathaniel Hawthorne has died during a freak snow storm, and his ghost has come to you, asking for help. There's more to this case than first appears, and only you can help free his spirit.
Midnight Mysteries: Devil on the Mississippi (Full)
Mark Twain's ghost has come to you seeking help from an evil that has been stalking him in the afterlife. Trace the steps in Twain's past that led to a lifetime of anguish. Twain's passion for literary history reignites a controversial debate about the true identity of Shakespeare; the age-old question resurrects a series of malevolent characters. After waking an unexpected evil, Twain sets about to rid his time of the darkness, but the plot only thickens. With Twain's help, you have to unravel the connections to try and set history straight while dangerous forces loom.
Midnight Mysteries: Haunted Houdini (Full)
Famed illusionist Harry Houdini knew he wouldn't escape death forever. When he promised his wife that he would try to reach her from the afterlife, it was seen as the ultimate stunt. But after years of séances, Bess was never able to reach Harry in this life or the next, and her spirit has come to you in a final plea to reunite her with her partner!
Sleepy Hollow: Mystery Legends HD (Full)
All small towns have their secrets and stories, but none such as Sleepy Hollow, whose legends are most grim and gory. By day a quaint village full of sunshine and banter, by night a place haunted by hoof beats and spectral laughter. Explore Sleepy Hollow as never before, searching for clues into the ancient legend. But beware; each night the Horseman rides, he takes another victim. Unravel the mystery before it's too late…
Escape Rosecliff Island HD
Find the Clues, Escape the Island! Find the Clues, Escape the Island!
An unexpected storm has left you shipwrecked on a mysterious private island. Can you find your way back home? You'll need a sharp eye to solve this captivating hidden object game. Explore 25 mysterious scenes and track down 2,100 hidden objects that will lead you to safety. Solve intriguing mini-games to piece together all the clues.
Plants vs. Zombies HD
Get ready to soil your plants in this high-definition, multi-touch adaptation of the PopCap hit! Winner of over 30 Game of the Year awards.* Plants vs. Zombies™ was spawned from the fertile minds that created Bejeweled®, Peggle®, Zuma® and Bookworm®.
Spider: The Secret of Bryce Manor
SPIN WEBS, TRAP BUGS, UNLOCK THE SECRETS OF BRYCE MANOR
Kick the Buddy: Trick or Kick
Boo! Kick the Buddy™ has become really SCARY! An entertaining adventure in the world of evil spirits awaits you! Get rid of stress in the atmosphere of the scariest holiday in the U.S.
Zombie Flick HD
During the 1970s an incurable virus spreads throughout mainland America. With no food or guns to hand, it's down to you as lone survivor to make the dead masses feel the pain.
Using nothing but useless everyday objects, flick, dismember and decapitate all that come at you to survive! Wrapped up in an atmospheric cinematic style, Zombie Flick will provide a fresh and bloody challenge to gamers with the tastiest brains.
ZombieSmash HD
ZombieSmash! HD brings the iPhone's original #1 hit "Survival Comedy" game to the iPad. Taking the frenetic physics-based gameplay from the original, ZS! HD blows it up to epic proportions – more zombies, more ways to kill them, and plenty of airspace for you to fling those bloated corpses!
I loved the first one ! The carnage!! The carnage!!
The definitive zombie shooter returns, reborn with stunning new graphics, gameplay and more!
Brought to you by the creators of Battleheart, OMG Pirates!, and the original Zombieville USA – this sequel is jam packed with content and features. Take command of your favorite character, customize them with a spectrum of weapons and skills, and do battle with the living dead – either alone, or with your friends!
– Features –
• Simple, pick-up-and-play arcade action. Fight hordes of enemies, make the most of your ammo, and go for your high score!
• Tons of unlockable content, including dozens of weapons, skills, playable characters and upgrades.
• Incredibly fluid, stylish animation optimized for retina displays.
• Full Game Center integration, including achievements and leader boards.
• Wireless Co-op multiplayer via bluetooth or wifi! (requires iPhone 3GS+, iPod Touch 3rd Gen+, or any iPad)
• iCloud support, allowing your zombie slaying progress to sync automatically to all of your devices!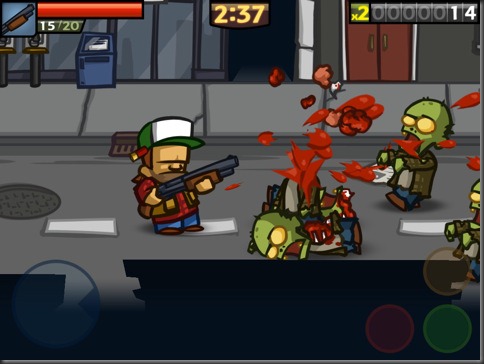 Other Articles of Interest:
Zombies HD
Inspired by Left 4 Dead and Alive 4-Ever, Zombies HD is the ultimate mobile first person zombie shooter, with the most advanced graphics engine on a mobile device to date! For more games visit www.RockingPocketGames.com
#1 iPad Adventure Game!! (Sept 13, 2011)
Designed to push the iPad 2 to it's limits, this game features per pixel dynamic lighting and shadows like you see on console games! The game is also playable on iPad 1 if you disable the effects in the options menu.
FEATURES:
– Use cash to upgrade your speed and other capabilities
– Variety of guns, all upgradeable
– 3 scenes each with 25 increasingly difficult missions
– Unique types of zombies: Crawlers, walkers, runners, tanks, poppers, jumpers, jumping tanks, and even pygmy zombies.
– Leaderboards and achievements using Game Center
– Realtime shadows
– Normal mapping, detail mapping, parallax mapping
– Freedom to move anywhere in the 3D environment
– 3D Audio (best played with headphones)
– 7 spooky and exciting background music tracks
CONTROLS:
– Analog stick to move,hold and drag in lower right to aim and shoot at the same time. Swipe anywhere else to rotate camera.
OR
Use the gyroscope to aim if your device supports that!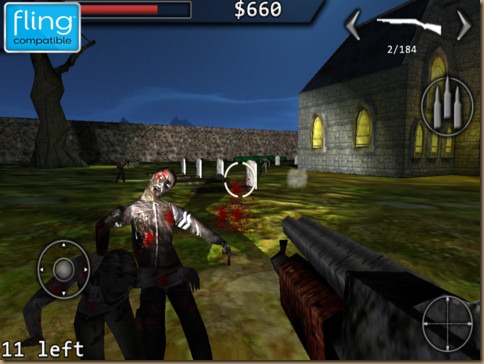 Crack O' Lantern
Free for Halloween! Happy Crackin'
The Objective is simple, crack your jacks on the wall or ground — use your cracked pumpkins to destroy the giant pumpkin to level up. Avoid ice and weapons, use fire for double points, and bombs to break up ice.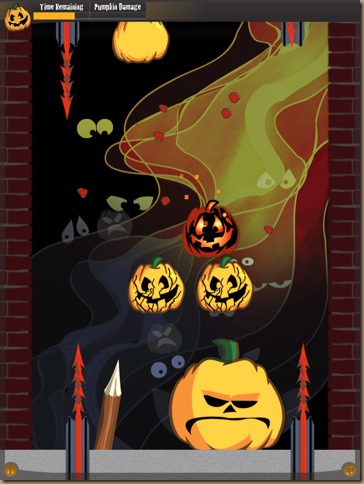 Halloween Soccer HD
Everyone is afraid of evil forces, but nobody knows that soccer is the secret passion of them. On the eve of Halloween witches, warlocks, vampires and other undead creatures emerge from the woods and swamps in order to find out who will be the winner in the annual soccer championship. Choose your own character, and we hope, you will enjoy the victory!
Halloween Soccer HD ™ is a splendid game that gives you marvelous feeling of victory. Playing for the undead characters you can see all theirs power and fury. Combining the various teams and soccer fields, find out who is stronger.
Meet in v 1.0:
• High quality graphics & sound
• Atmosphere in best tradition of horror films
• Intuitive one-click gameplay, you can play vs. CPU or vs. your friend at one device!
• 4 types of players
• 4 types of soccer fields
******
Don't forget to rate Halloween Soccer HD ™ 5-stars in iTunes when you buy it, get it for free or every time an update comes out!
Your 5-star iTunes ratings and reviews keep the updates coming!
******
Soon in next update:
• New characters and soccer fields!
• Unique bonuses for even more exciting and dynamic game!
• Facebook & Twitter!
• Game Center
• Other additional abilities for more your fun!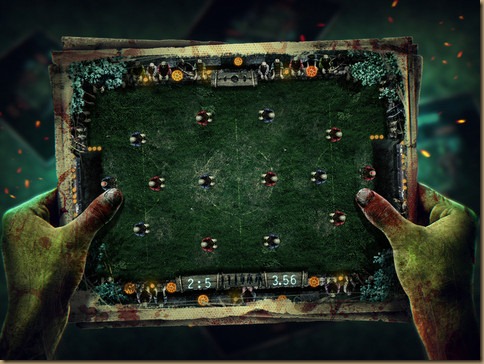 Other Articles of Interest:
As a famed mystery writer, you're looking for your next case to crack when an unexpected invitation arrives from the ghost of Edgar Allan Poe. Collect clues, interview witnesses and piece together the conspiracy behind the writer's mysterious death. But, hurry you only have 24 hours to solve this Midnight Mystery!
* Celebrate 200 years of Poe in this seek and find murder mystery
* Hidden object adventure lets you crack a 160-year-old case
* Guided by Poe himself, you'll collect items and clues through his most famous works
* Solve intriguing puzzles to figure out exactly whodunit!
Midnight Mysteries – The Edgar Allan Poe Conspiracy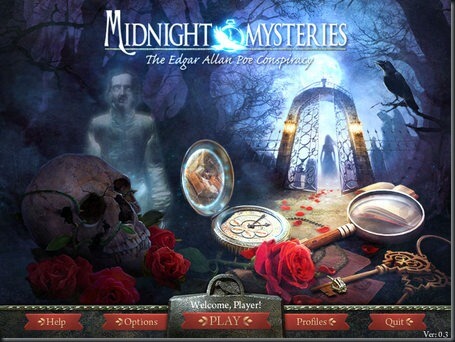 Other Articles of Interest: