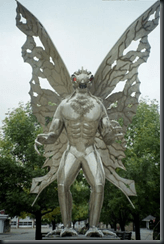 Destination America is adding to their Paranormal lineup with the addition of Boogeymen, a series which looks at urban legends. For their premiere episode they look a little deeper into the Mothman legend. Back in the 60s it was reported there was a large bird like creature out in the woods. It's said this creature was tall, with a large wingspan and glowing red eyes. Eyewitnesses tell stories of it chasing their cars and appearing in usual places. The stories led to the legend of it being a foreteller of disastrous events such as the collapse of the Silver Bridge. This lead to the Mothman Prophecies.
It was also during this time that people reported The Men in Black, strange, secretive types that lurked on the streets and told people not to talk about the creature they had seen. Some say the men in black even threatened them. The appearance of these sinister figures coincided with the appearance of UFOs. People would see strange lights in the sky and told stories of seeing crafts that would move silently and were so bright you couldn't look at them.
Combine these stories and put the center of the sightings around and old government factory and munitions are and you have one heck of a tale.
So what is the Mothman? Was it simply a bird that had mutated from the waste expelled from the factory? Was it some sort of create that was simply misidentified by people and it turned into a legend? Is it some sort of supernatural force or perhaps a creature from outer space? Was it simply a hoax or prank that took on a life of it's own? Or was it people of the 60s trippin balls on acid and just making crap up?
This little biography looks at both sides. It talks to skeptics and believers to see what they think. It discusses all sorts of theories and tries to come up with some explanations. Why is there no body? Where did it go? Why hasn't it been seen again?
It's an interesting story that will certainly be debating for a lot longer to come. Either way, the people of Point Pleasant have embraced the Mothman legend with museums, tours and even a festival. So where did the Mothman come from? Who knows, but it looks like Point Pleasant is the place to be during September when the festival is on. Who's down for checking out the museum and going on a tour?
Other Articles of Interest: