666 Park Avenue – S01E07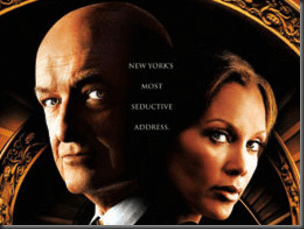 While nowhere near as dark and decadent as American Horror Story, 666 Park Avenue is still weaving an enjoyably foreboding story that plenty of twists, turns, deceit, lies and power struggles.
We've now learned that Gavin has a special box that is linked to and may even be the source of his powers. We've also come to understand that his wife Olivia has far more insight about her husband and who is than we previously thought. We're not exactly sure of her involvement, but she's no stranger to the dark side.
It's also been revealed that Jane, like several other children, are part of the Drake. They are connected with it. Were they born there? Is there something to be known about their parents? If Jane is from Indiana, how did she end up being photographed in the Drake when she was merely 8 years old? And will she be an asset or a hindrance to Gavin? We clearly see his interest in Henry and making him a political figure, so where does Jane fit in? Especially now she has discovered some secrets in the basement.
And let's not forget the misdeeds of Alexis with Brian. Clearly there is more to the story than a simple affair.
Goodness me, this whole thing sounds like an episode of Dallas, doesn't it?
Other Articles of Interest:
One Response to 666 Park Avenue – S01E07