American Horror Story Asylum S02E05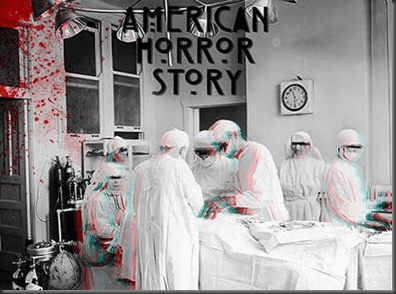 This show is getting downright strange and bizarre. Where else can you get nuns possessed by the devil, war criminals, Ann Frank, lobotomies, serial killers and unwholesome medical procedures all in one place.
American Horror Story has turned very dark and psychotic. I think this season is far more diabolical than the original. Not only is the material more sensitive, but as we're coming to see, no one is who they appear to be.
Our doctor likes to perform all sorts of experiments in the quiet of his locked laboratory. Kit Walker, "Bloody Face", may be completely innocent even though his legal counsel just completely blindsided him into confessing. Said legal counsel has a rather twisted hobby and is more than likely the serial killer everyone has been looking for.
Sister Jude has had a fall from grace. She's no saint, but she might be the only one who knows what the hell is going on around this joint.
The twists and turns are staggering. We're only on episode 5 and I'm quite stunned over what's happened so far. If you haven't jumped on board, you're missing one hell of ride. If you thought the original was sinister and had you confused, what until what they've cooked up so far.
I have to say, I'm completely riveted.
Other Articles of Interest:
One Response to American Horror Story Asylum S02E05