Killer Contact – Lucrezia Borgia – S01E03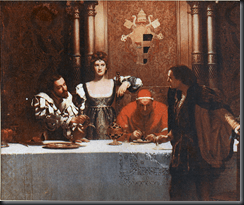 For this episode the team heads to Ferrara, Italy to investigate the legend of Lucrezia Borgia who is rumored to have lured dozens of men to their death to increase the influence of her family. She is reported to have poisoned men as well as several of her fiancés met an untimely end before actually getting married. So was Lucrezia the female poisoner of the family or has history improperly tied to misdeeds based on her family name?
The team investigates the Castello Estense where it is believed that Lucrezia poisoned many men and even had a special room, The Chamber of Poisons built so she could perform her acts in private. As they investigate they get some contradictory feelings and impressions that leave them divided on whether Lucrezia is guilty or a victim.
Greg and Molly investigate The Chamber of Poisons where Greg feels something is putting pressure on his head. Molly makes a big deal about the fact that she can't get Greg's face in focus on the camera, but we later see the camera does the exact same thing in the Chapel. So is Greg having an experience or is the camera experiencing a malfunction? To me it looks like the camera is broken.
They next investigate the Chapel and that's where team becomes divided. Adam and Hector feel a presence that gives them a sense of peace. They feel this is Lucrezia trying to tell them she is innocent of the charges people have leveled against her. Greg and Molly investigate the same area and feel something more sinister. They feel extreme cold spots and that they're being toyed with. Molly feels uncomfortable in there and doesn't have the same sense of peace.
Unfortunately, neither group captures any real evidence of what they see or feel. It is all impressions of the moment.
Another part of the investigation is to check the basement for arsenic poisoning. While they take multiple samples, there is nothing to indicate arsenic is lingering in the area.
Overall I'm not sure if this is getting better or not. Their methods are still pretty flaky, their evidence is extremely light and in some cases non-existent and they draw some wild conclusions without any basis in fact. The Borgia have an interesting story so it wouldn't be too big a surprise if the rumors and stories were true, but this investigation didn't add anything to the narrative. I'm sure they had a neat time in the castle, but in the end they really haven't given us anything.
So, what do you think? Did they make contact with Lucrezia? Is she guilty of taking men's lives with poison? What do you feel is the most compelling evidence?
Other Articles of Interest: