Haunted Highway – Bridge of Doom and Shades of Death Road S02E05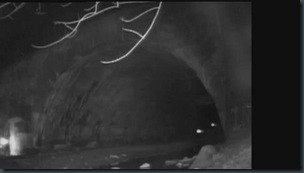 Bridge of Doom
 
Well, the team has certainly found some ominously named place for their next investigation haven't they? Who actually names a road, Shades of Death Road? That's not just a clever nickname thrown out by the locals, it's the actual name of the road. I guess they've been waiting for paranormal groups to show up.
 
The first investigation is at the site of a terrible train disaster. As the train passed over, the entire bridge collapsed and who knows how many people lost their lives. There were so many dead, they were buried in a mass grave. As Jael and Devin investigate they come across some strange happenings and perhaps a little vandalism.
 
At the site of the collapse Devin seems to capture two figures on his thermal imager. Are these spirits or just some kids wandering around? It's not like they didn't just go into town and tell everyone they were going to the bridge for an investigation. Additionally, Jael conducts an EVP session and feels the bridge is going to collapse on her. While in the cemetery at the mass grave their video equipment is vandalized while they try and make contact with Mr. Collins, one of the designers of the bridge. Sounds like someone has followed them out there and wants to give them a show. Since these aren't closed areas, it wouldn't surprise me if someone was out there messing around. Maybe they were trying their own investigation. As for the equipment, that sadly seems like someone just smashing their gear because they walked away from it. Perhaps they were acts of the paranormal, but it's far more likely they simply weren't alone out there that night.
When all is said and done there really isn't anything to support the claims that the Bridge of Doom is anything more than just a bridge and the train wreck was a sad accident.
 
Shades of Death Road
 
There are many urban legends about lonely stretches of road where strange figures can be seen on the side of the road and mysterious "hitchhikers" that are there one moment and gone the next. Jack and Dana conduct their own investigation and have some strange experiences.
 
With multiple cameras mounted to the car they decide to drive the lonely stretch. Within moments, the cameras begin to flake out and they get a flat. Certainly sets an ominous mood for the night. But then as they drive further down the road, Dana sees a figure at the side of the road. Now honestly, it looks like someone has stopped in the middle of the night to relieve themselves. I suppose it could be a full bodied apparition, but someone urinating on the side of the road after a wild night of indulgence is oh so more likely.
 
Jack captures a "mist" coming out of the lake. It seems like two figures rising from the water. Yes, that could indeed be some sort of water siren or it may be a gas leaking out from the lake itself. They've come across this sort of thing before, but It looks cool either way.
 
As Jack says, when you have a road named Shades of Death Road, people are going to expect certain things and there minds can easily play tricks. It's interesting that the camera had issues at the bridge, and their radio malfunctions at the same time. Could be some spiritual energy, pocket of EMF or something strange and unusual that needs some more investigation. The lake certainly lends itself to stories of the paranormal as strange figures rise from the water. Pockets of gas aren't quite as spellbinding as spirits, but who knows which is correct is in this instance. Are there really spirits trapped along the side of the road or do pranksters lurk in the shadows and natural phenomenon give the urban legends a spin of truth?
 
A lonely stretch of road can yield many things. Hard to say what we have going on here. It doesn't seem like they captured any real evidence of lonely spectres walking the lonely road. Oddly, there was no story of a woman in white who asks people to take her home and then disappears.
Other Articles of Interest: