Haunted Towns – Gettysburg – S01E01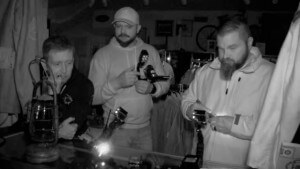 Abandoning their previous show and exploits, the Tennessee Wraith Chasers are now out to visit the most haunted towns to capture new paranormal experiences. Their first episode investigates Gettysburg, site of the debilitating battle that took place from July 1-3, 1863 and took the lives of over 50,000 men from both sides.
Instead of taking their investigation to the battlefield as others have done, the move closer to town to investigate the Mason Dixon Militaria and Stewart Farm.
The Militaria sells and displays period antiques including muskets, pistols and clothing. In particular there are army uniforms and a dress worn while attending one of the makeshift hospitals. The employees of the store claim activity of conversations, and shadows in the basement. Doggie  get readings of something close to the floor. When we see the basement, there is a slew of derelict wires on the ceiling right where he took readings.
To start the investigation, they put Brandon in a uniform and place him in a viewing coffin. They also bring out the white dress to use as a trigger object. However, neither of these generate much of a response.
With Chris, Porter and Doogie at the counter, they try for responses on the recorder. They get "Mike" and "closet" and the response of "yes" when asked if anyone was injured. However, none of these sound intelligible on playback. We also get the old trick of the flashlight going off without anyone touching it. When they put a pistol on the counter, they get "arms" from their Ovilus device. That's about the only part that makes sense.
Doogie claims he gets the word, "van," a reference to Mike, their audio engineer in the van, but try as I might, I don't hear anything that even remotely sounds like "van." It feels like they're making that one up.
In a rather awkward moment, they record an EVP by the white dress. However, it's not a woman's voice, but a big old "f*ck you." It's bleeped out, so clearly no way to confirm. And it simply doesn't fit.
Down in the basement, they play battle sounds and get the K2 meter to blink. Ask if the energy is a Union soldier and get some beeps. To try and see if the entity is intelligent, they ask who the leader was that gave the speech to the country after the battle. There is some sort of garbled static, which they say is "Abraham Lincoln." I honestly don't see how they're getting a single name, let alone two distinguishable words out of that crap.
The next location is the Stewart Farm, along the road where the troops would have traveled. It was also a makeshift field hospital. They speak with Stephani, who claims both her son and grandson have had experiences. Her son claims he saw people looking down on him, while her grandson saw "a blue monster," aka a soldier.
As they start, there is a small noise, which they immediately say came from the room where the son had an experience. A bold claim to make since they had no idea where it came from. In that room they hear a small sound from a table, which they make out to be as significant as the table levitating. Small pops from an old farm settling at night. Who would have thought?
To add trigger objects to the mix, Porter fires a musket. Doogie immediately says he feels something and Porter claims a shadow is on the staircase. But, things turn sinister as they get a temperature reading of 66.6 and Porter gets "Satan" on his Ovilus. This is followed by "unholy" and "homicide". This makes Brandon jump to discussing demons. Here we go again.
In the barn, they perform the musket experiment again, and ask any spirits what that noise was. From the burp of static, they get a response of "cannon." Porter says that is correct as he did a double load in the musket.
As we bring things to an end, they once again have to insert the idea of Satan and demonic forces at work in the area and the activity they captured was off the charts and proves the soldiers still linger.