Poe on the Go?
In looking through iTunes I came across a decent collection of stories and there is an abundance of Edgar Allan Poe in the mix. If you have a want for some tales from the master and want to read those on the go then iTunes is the right place.
Each application contains multiple stories so you aren't just getting one story, but complete works. Further, they're only $0.99! It would be impressive to just one story for $0.99 let alone an entire collection! But check out these applications. They make reading and scrolling through the text very easy.
Seriously, $0.99 for a whole collection of Poe? And you never know when you will have the need to break out some horror classics.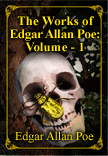 Complete Works by Edgar Allan Poe
http://itunes.apple.com/WebObjects/MZStore.woa/wa/viewSoftware?id=295301989&mt=8
Edgar Allan Poe Collection
http://itunes.apple.com/WebObjects/MZStore.woa/wa/viewSoftware?id=296335324&mt=8
Edgar Allan Poe Collection (Classique)
http://itunes.apple.com/WebObjects/MZStore.woa/wa/viewSoftware?id=321457774&mt=8
Stories include:
The Black Cat
The Raven
the Fall of the House of Usher
The Murders in the Rue Morgue
The Pit and the Pendulum
The Cask of Amontillado
Other Articles of Interest: