Cemetery – A Halloween theme for WordPress
Old and weathered headstones with names that have long since disappeared. Does anyone still visit this site?
You can't have Halloween without an old cemetery. So of course here's one for you. A 2-column grey theme with red sidebar that is compatible with WordPress 2.8.4 and is widget ready. This is a really usable theme with cool graphics. You should have a lot of fun decorating your site with this theme.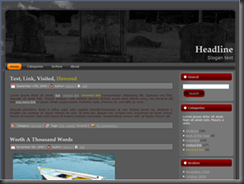 Other Articles of Interest: