Blood Red – Halloween theme for WordPress
Some scary faces that should look familiar and instill fear for their terrible deeds. They appear in your dreams and perhaps, they even lurk under the bed.
We continue our Halloween themes with this dark theme with blood red sidebar and a header featuring many movie creatures. It's an easy to use theme and should set the mood for Halloween. As always it's compatible with WordPress 2.8.4 and widget ready. Personally, I like the puke green font color in the main body. You should have a good time with this one.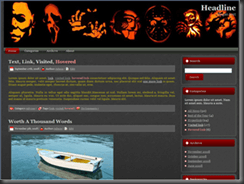 Download Blood Red Halloween Theme
Other Articles of Interest: