The Dark Church – WordPress theme for Halloween
A church should be a place of sanctuary and salvation, but what happens when things go wrong? There's something about a church at night that doesn't seem, quite right.
We present a new theme with dark colors for the body, silver for the sidebar and blood red accents. A moody and brooding theme that sets the stage for Halloween fun. A really wide theme with plenty of room for text and images. Take it for a spin!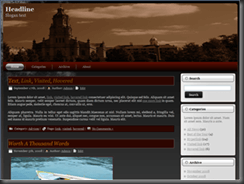 Other Articles of Interest: