Abraham Lincoln Vampire Hunter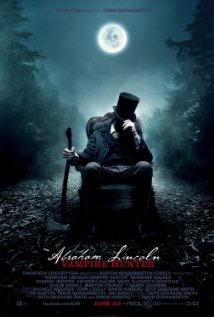 I went to go see Abraham Lincoln Vampire Hunter last night and without a doubt that is one of the more outlandish movies I've watched. We have Abe Lincoln who is trained to hunt down vampires and dispatch evil under the cover of darkness. He's a master with the axe and his kung-fu moves are pretty decent too.
The story goes a little something like this: Abraham loses his mother to a vampire when he was a child. He seeks revenge for her death, damn near gets himself killed in the process, meets a vampire slayer who teaches him the ways. They become friends and Abraham's job is to get rid of the demons. He becomes well versed in their fighting and hiding methods and becomes adept at getting rid of them. Meanwhile, he still has a thirst for vengeance.
There is all manner of bloodshed, beheadings, ass kicking, blood spattering and vampires doing the naughty things they do to incur Abraham's wrath. Overall, it was pretty damn good. Sure, the story was silly, but the action sequences were a hell of a lot of fun to watch. There are quite a few twists and turns to keep you guessing about who the bad guys are. Who's betraying who? Are these guys really on the same side? How will they defeat the Southern soldiers who just happen to have allied themselves with the vampires. It won't win any Oscars, but it was fun to watch. It was what a movie should be, a complete suspension of disbelief and pure entertainment.
Considering Batman and Spiderman are right around corner, I don't think a movie like this is going to last long. Unfortunately, I think it will be shuffled away in light of bigger names coming down. If you want some good vampire entertainment, you probably need to make a move and see this before it's gone.
There was also a preview for the show 666 Park Avenue on ABC which has my interest. I would assume this is their version of "American Horror Story". It did look interesting though.
Other Articles of Interest: