Hannibal – Season 4 not on the books, but could it be?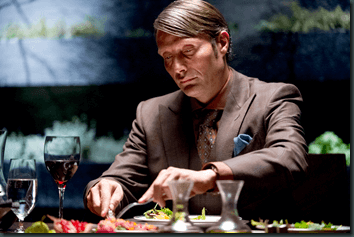 We're just a few episodes in and NBC has already announced they won't be renewing Hannibal for Season 4. This has lead to lots of rumors and speculation about the future of the show. Is someone else going to pick it up? Will Netflix, who seems to be everyone's hope at a TV savior these days, swoop in and add another show to their exclusive catalog? Is anyone brave enough to take up the mantle of a show with such dark underpinnings? Is it even possible someone wants to take the helm and recreate the 3 Hannibal movies in serial form using this cast of characters?
I always thought from the first couple of episodes that Hannibal shouldn't be on regular "broadcast" TV. It's content is far too niche and the audience would be relatively small, but devoted. It wouldn't generate the kinds of numbers commercial based TV would need to say it's viable. I'm surprised it even made it to air, let alone came back for a second or even third season.
But here we are with a deep and dramatic story that is drawing to a close. And one that still has several more chapters to tell. Can it continue on?
I personally don't think Netflix will pick it up. Instead, I would look to either Amazon, who already has broadcast rights under Amazon Prime, or Starz, which is known for broadcasting niche content with "mature" themes. Out those choices, I'm not sure which I would prefer.
Amazon certainly has the money and they have dabbled in some darker offerings by renewing "Ripper Street". Based on the cost of putting the show together, it wouldn't be hard for them to turn a profit and garner an audience. Plus, they already offer Hannibal, so it would easily blend in.
Starz has put together several niche shows like Black Sails, which has it's violent and sexual side, as well as Outlander (plenty of violence and sex there) as well as Da Vinci's Demons which isn't exactly General Audience fair. Black Sails has certainly been a slow build, but has garnered a pretty stout audience. I'm a fan of the show and liked that not every show had to have explosions and backstory was an important element. Same can be said for Outlander, which moves at a steady pace, but isn't "action packed".
If we're throwing names and fanciful ideas out there, what about Showtime and Hannibal as a replacement for Dexter? We had multiple seasons of Dexter and serial killers certainly aren't new territory. I would be content to see a meeting of the minds between those groups.
In all cases, Hannibal would do well on a "cable" station or with a streaming service. Best to keep it away from the prying eyes of younger viewers and away from those who might "stumble" upon it and then cry foul over what they saw.
I would very much like to see the show continue and as I said before, I would like to see this cast and this crew remake the Hannibal movies. We've already been introduced to many of the characters from those, so why not just go all the way? I would like to see that trilogy redone and put that other horrible set of movies to rest.
Will someone take up the challenge to keep the show going knowing there is already a committed audience? They are exploring all avenues, so who knows. We might get lucky, but I don't see a reason to do any more than 3 more season. This would complete the movies and finish things off nicely. If they wanted to venture into the unknown and make a fourth season where Hannibal disappears into society again, I would certainly be along for the ride.
What do you think? Netflix? Amazon? Starz? Showtime? Or is this the final dinner engagement of Hannibal?
Update: Just read that Amazon owns the exclusive streaming rights of Hannibal so that effectively shuts out Netflix. Also, Bryan Fuller has a new show coming out on Starz, so clearly that's a possibility as well.
Other Articles of Interest: