Hannibal – Season 2 Premiere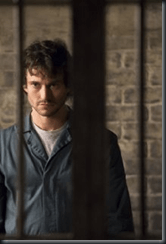 The new season of Hannibal starts off with a bang, or rather a massive take down brawl between the lead characters. Not to give anything away, but we see Hannibal and Jack locked in mortal combat with dozens of blows being landed and some near misses with the cutlery. It ends with what looks like a fatal wound, but we immediately jump to 12 weeks earlier and get on with the story where we left off with Will incarcerated and suspected of killing multiple women. Of course, this leaves us wondering, was this a real fight sequence or was this some sort of dream sequence from Will? As we quickly learn, Will suspects Hannibal is behind all the crimes and set him up. He recalls Hannibal doing things to him, but can't swear any of it's real. In fact, he doubts anything is real anymore. Has Hannibal manipulated him or is that what he wants to believe?
While Will is trying to sort out his issues we're also on the trail of a new serial killer that's taking victims and preserving their bodies with some sort of shellac. Their bodies are discovered at the dam of a river and since Will is behind bars Hannibal steps in to help with the investigation. Through the sophisticated suit he's able to think like a serial killer and offers his own insight. Little do they suspect.
We also see some tensions between Hannibal and his own therapist Dr. Maurier. There's an usual past between these two and a lot more than meets the eye. The way things come out, Maurier is aware of Hannibal's tendencies and at one point may have even been the victim of his wrath.
Will is determined to prove Hannibal isn't what he appears but obviously he's working against the clock. The FBI is about to wash their hands of the whole affair and let the prison system have Will. But he won't be the only one going down. Jack and Alana will face a stern ass kicking since they left Will work out in the field knowing he was unstable.
I have to say it's a damn good start to the new season. We have a ton of information thrown at us and plenty of details to make us wonder how it's all going to turn out. The fight scene at the beginning really makes you wonder how we're going to get there and of course was it all real? We should have a very entertaining, dark and suspenseful season on our hands.
Other Articles of Interest: