Hannibal – Takiawase – S02E04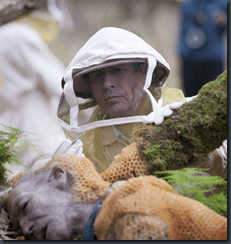 As we jump into the latest episode of Hannibal we see Will trippin balls and seeing hallucinations or perhaps the realities of what Hannibal has done to him. Did Hannibal induce seizures in Will to cause time loss and gaps in memory? From the "flashback" we see, Hannibal overstimulates Will with drugs and flashing lights. That's how we get the deformed clock Will drew.
We also have another serial killer on the loose – an acupuncturist gone wrong. She has decided the body would make a fine honeycomb for her bees. This is of course after using the icepick to take their pain away. Don't try the honey kids!
But the idea that the bee stings hide the acupuncture wounds leads Beverly to recheck the wounds on her previous serial wherein she learns the liver is gone. Will declares Hannibal is behind these deeds, but where are all the bodies? Based on his memories, Will says Hannibal is eating them. That doesn't go over very well.
Finally, Beverly checks out Hannibals house while he is at the hospital with Jack and his wife after he foils the wife's failed attempt at a morphine overdose to end her suffering with cancer. Beverly discovers and unlocks a couple of secrets room including one underneath the kitchen. She may have bitten off more than she can shew as this curious Katz is now face to face with Hannibal in his lair. Darkness and gunshots ensue and one of them isn't getting out of there alive.
Other Articles of Interest: