My Pumpkin – Halloween theme for WordPress
Who can resist this orange beauty that just waiting to come home with you? A simple theme to help dress up your blog and celebrate the season. Featuring a light gray with orange highlights this theme is easy on the eyes. Just like the others it's a 2 column beauty that widget ready. All it needs is your favorite Halloween activities.
It's simple and elegant just the like the pumpkin itself.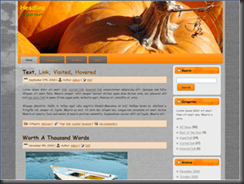 Other Articles of Interest: