Dark Forest – Halloween theme for WordPress
The forest can be a lonely place, especially when you're lost. Should you keep going forward or give up and try to make your way back? Or does it matter any more? What was that noise?
Here is our Dark Forest theme, a 2 column widget ready theme, tested with WordPress 2.8.4. All this theme needs is some ghost stories and it's ready to go. We're not sure where this path leads, but something tells us it's not all pumpkin pie and gingerbread at the end of it.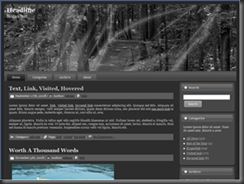 Other Articles of Interest: