Graveyard – WordPress theme for Halloween
A cemetery can be a lonely and scary place. Strange noises, lurking shadows, a feeling of not being alone. We bring that to you in this Halloween theme for WordPress. Walk through this old and weathered graveyard with it's broken headstones and forgotten souls.
We gave this theme a weathered look to match the headstones, but this time we went with a 3 column design. It's widget ready and tested against WordPress 2.8.4. It should give your blog a hallow and empty feeling to it, just the way you like it.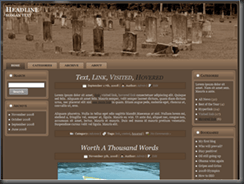 Click here to visit the graveyard:
Other Articles of Interest: