Blue Static – Halloween WordPress Theme
This is one of my favorite themes and is the current theme of the site! Now, I'm offering up to anyone who wants it. It's a dark blue theme with blue highlights in the sidebar. The header is a series of images that look like they're coming through a television set tuned to a dead channel. It has a sort of Poltergeist feel to it. Plus it has some other niceties like the little ghost in the article header and the pumpkins in the sidebar. I'm really pleased with this one so I hope you enjoy it as well.
Again, compatible with WordPress 3.x and a 2 column theme.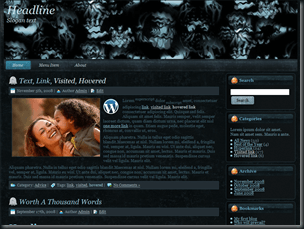 Download Blue Static for WordPress:
Other Articles of Interest: