Whitechapel Season 4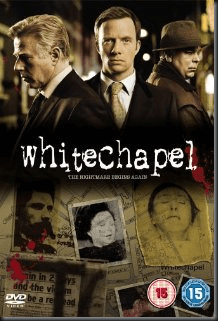 I just finished watching the latest season of Whitechapel from the BBC and it was every bit as dark and ominous as the other seasons and then some. The whole crew is back again to face some very nasty foes such as a killer that is mimicking the deaths from the Salem Witch Trials complete with adding more weight until he gets a confession and burning at the stake.
We also have several stories about the teams personal side, such as Kent's twin sister, Buchan's new book and the unusual woman he meets at the book signing and multiple instances of DI Chandler in some putrid settings that make his OCD become nearly debilitating. Then again, if I was covered in raw sewage I can't say my reaction would be much different.
This was a pretty dark series that had some very unusual storylines and some very interesting references to history. We even get the idea that Whitechapel may be sitting on a gate to hell, that's why so many bad things happen out there. There is a pretty big supernatural element to this season and most of the team finds themselves dealing with their own personal demons in some way.
It was a pretty compelling season. I certainly hope there's another one coming.
Other Articles of Interest: