The Awakening – The early ghost hunting adventures of Florence Cathcart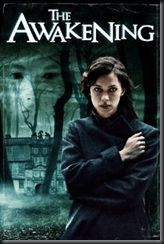 This is an interesting period piece set in 1921 that showcases some early ghost hunting tools as Florence Cathcart works to investigate some mysterious happenings at a boarding school where a phantom boy is said to have been seen and shows up in the school pictures.
Florence is a debunker of the paranormal. We first find her at a séance where she quickly calls fraud on the entire proceedings showing how the ghostly faces appear, how the table shakes and how so many people are in on the game. Quickly, the Spiritualists are rounded up and carted away. Florence has gained quite a reputation for herself and is soon asked to investigate and debunk the claims of a ghostly boy who keeps appearing in the school photographs and has the boys who live there quite scared.
Approaching the matter with her usual skepticism, Florence sets up her early detection equipment and feels quite certain she will catch the boy who is playing this trick. It's quite interesting and entertaining to see the early EMF detectors, motion sensors and camera hooked to wires so they trigger when someone passes in front of them. And soon, Florence has a young boy in her grasp. But there appears to be more to this place.
There is doll house replicate of the school and inside are little characters that act out the events that Florence has just done. It shows her setting up the cameras, different people in proper rooms and generally retells the story we just witnessed. But Florence already found the boy who played the tricks so what is this? Is there really something going on or is there another accomplice? Is it one of the boys or one of the many staff that seems to have an elusive past and ulterior motives?
I found this to be a very atmospheric movie that does a lot with only a little. There are no wild special effects, or wild scenes of gore, or blood soaked monsters running at the camera. Instead, The Awakening instills a sense of foreboding by mysterious footsteps, giggles, figures that are always just out of reach so we can't tell who they really are, characters that say one thing then do another and plenty of misdirection. And it keeps building all the way through. Even when the prankster is found, events keep happening. The more Florence seems to deny and debunk the events the more frequent and ghostly they become.
For those who liked The Others like I did, this is a fun movie. It has depth and scope. It makes you think and wonder. It shows that you can make a fun and atmospheric movie without going over the top with special effects and gore. There are lots of twists and turns in this one and the plot keeps getting deeper as we go along. When we get to the end we don't just learn about what's been making all the noises, we learn about several of the characters, how they're connected and how Florence is related to it all. It's an ending that fits very well with the story, one that doesn't feel cheap or contrived.
This is a very fun weekend movie to watch with the lights off and this is the perfect time of year for it.
The Awakening (2012)
Other Articles of Interest: