American Horror Story – Coven – Season 3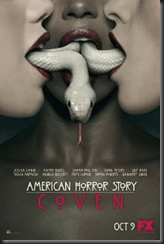 Just in time for Halloween, American Horror Story has return and it's wastes no time in setting the stage for sin, debauchery, excess, witches, voodoo and the supernatural. It only takes a few minutes to realize this season will be darker and more mysterious than the seasons that came before.
For this year we have the Coven, a finishing school for girls. And by girls I mean witches. Angela Lange stars as Fiona, the Supreme who comes back to teach the girls what it really means to be a witch in today's modern times. She's not satisfied with suppressing their gifts and wants to hone their skills and get them prepared. The burning of a witch not more than few miles down the road has her concern that a storm is brewing and they could be caught up in it.
Things start off quite grim as we see Kathy Bates as Madame Delphine LaLaurie, a Madame Bathory type who likes to bath in blood to keep her youthful appearance. She treats her guests with great extravagance, but her slaves are taken to the attic where they're beaten, tortured, skinned and finally drained. A grisly scene that she seems to relish in.
The finishing school is quite like a scene from X-Men. Each girl has special abilities they need to learn to control. Zoe has the ability to kill men during sex, a point proven twice in the first episodes, Nan is a clairvoyant, Madison can move objects including a bus full of frat boys that assaulted her and Queenie is human voodoo wherein she can stab and cut herself causing pain to others. At one point she has a knife to her own throat. She's pretty damn serious.
This episode started off in fine form with multiple characters from past episodes making their appearance. You should recognize them quite easily and I'm sure there's more to come. We have events being based in Louisiana where magic is still a powerful thing. I have no doubt there will be many flashbacks to the Salem Witch Trials and more of the acts that LaLaurie was murdered for. It's going to be an interesting season and while we don't have the full story yet, there is plenty of information coming in to get you hooked and excited about what the future holds.
Now we enter the world of the strange, the unusual and the bizarre.
Other Articles of Interest: