American Horror Story – Freakshow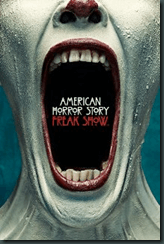 Tomorrow is the new season of American Horror Story – Freakshow and from everything I've seen this is going to be even more messed up that the seasons that have before it. You know darn well and good their going to come up with the most bizarre and unusual things to throw at us this season. I've seen a few of the commercials and while we have them, we're going to go far beyond the bearded lady. They even have the world's smallest woman onboard so you know they scouted high and low for some thrills and shocks.
From what I can gather this season will focus on some murders that take place in a farming community and the horror it instills can be used to the advantage to the circus carnies. It also tells of the owner looking for new "attractions" for his freakshow. Considering we are right around the corner from Halloween there is going to be plenty of grim and outrageous scenes. And I have every reason to believe there will be some scene and a story involving demonic and twisted clowns that will make the Pennywise from IT seem tame. I'm looking forward to it!
The first episode of the new season is tomorrow night, Oct 8. The episodes run right throw Halloween so you know this is going to be twisted!
Other Articles of Interest: