Sleepy Hollow – Season 1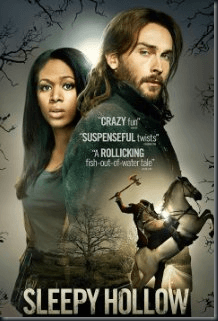 For their first season, I think Sleep Hollow came out with an interesting story with nice twists and turns and offered some unusual variations on history.
First, we have the Headless Horseman. Is he just a specter that roams the night looking for head that show off with a cannonball? Oh indeed not. He's far more than that. He may be one of THE horseman. And his presence could spell certain doom for us all.
Next, we have Ichabod Crane. Clearly not the gangly pedagogue with a veracious appetite for chicken and pies. This Ichabod is much greater Interventional Man of Mystery gifted in solving puzzles and unraveling the riddles that George Washington left behind. Seems Washington was quite a believer in the supernatural and knew the end time would come. He may have even cheated death for a short time to lay out the roadmap to save the world.
And then we have Abbie Mills, the witness. A strong cop who has no choice but to believe in and work with Ichabod even though he's been dead for nearly 200 years. The old world and the new world collide and they make a pretty good team.
Sleepy Hollow turned out to be a fun blend of fiction and fact, such as events of the Salem Witch Trials. But there are the new takes on history like Washington coming back from the dead, his secret bible and the lost colony of Roanoke just to name a few.
We also have some changed to the Legend of Sleepy Hollow story itself, such as Brom and Ichabod were best friends and it was Katrina that came between them. Katrina and Ichabod do indeed get together, but Katrina has a past and bloodline that Ichabod never knew about.
It all comes across as great fun and comes to a head with a dramatic cliffhanger. The "Soul Eater" takes off his mask and reveals some pretty shocking details about his life. Clearly Ichabod, Katrina and Abbie are in some serious soup. I anxiously await the next season to see how get themselves out of this mess and where the clues will lead them.
The only think I have to complain about were the long breaks. Every time I turned around it seemed the show was on another 2 week break. Come on now, you lose fans that way.
So what did everyone else think? Decent first season? What do you think of the new Ichabod? We know he doesn't like Skinny Jeans.

Other Articles of Interest: