Dracula – Season 1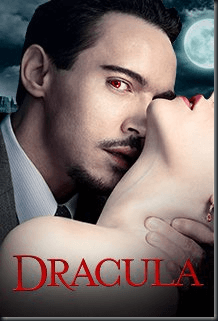 To be honest, the Dracula story and vampires in general have just about been done to death to the point where stupid emo teenagers are getting into the act. But I suppose we can always try another take on the idea and for this go round we have Alexander Grayson as a business tycoon who wants to put the oil men out of business and light up the world with his new wireless electric light. An interesting statement about our current oil situation don't you think? We also have several changes to the allegiances and friendships that we've come to know from the story. Renfield isn't a mindless stooge, Van Helsing and Dracula have a rather different relationship this time around, Johnathan Harker isn't quite trapped, but his grip on Mina is slipping and his hatred of Grayson is growing. And let's not forget the legion of hunters that have been called in.
So does this rendition of Dracula have what it takes to keep and audience and generate a couple seasons of TV viewing? Well, it's not a bad start. This Dracula is quite a bit different than the book. He wants to be a businessman and walk in the light and he's brought Van Helsing along to help him with those goals. Or has Van Helsing risen Dracula for his own gains? And by gains I mean revenge?
What is the end goal for Grayson? Is it just to push lighting on the world? What are his bigger plans? And now that Harker has sabotaged the entire project and mangled the hell out of a city block, what do we have coming for next season?
The fact I ask so many questions means I'll tune in for the next season. This take on Dracula isn't too bad. He has money, he's building power and he can kick ass when he needs to and beat someone with their own arm.
At times the story feels a little haphazard and it suffers from the same long breaks. Either take a break and play everything together on the other side of Christmas or move the show to a different month. Skipping episodes for weeks on end is a pain in the ass. But overall I was on board with Dracula. I think it will get better for next season once they're given the chance to develop the story more. I did like all the background info, especially on Renfield. Of course, it looks like he's a bit of distress as the final episode comes to an end.
So what do you think? How was this Dracula? Lots of vampire shows have come and gone. I think the last one I was on board with was Moonlight, which I felt had a lot of potential, but got canned. Let's hope this Dracula has more success .
Other Articles of Interest: