Paranormal Lockdown – Bellaire House – S02E06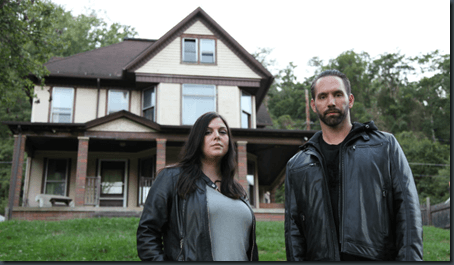 Our next lockdown takes us to South Eastern Ohio and the Bellaire House, supposedly built on a ley line. It was constructed in 1909 by Jacob Heatherington and was handed down through the family. Eliza inherited, but when she passed, the house went to Edwin, who supposedly conducted seances to make contact with his departed sister. It was then purchased by Kristin Lee who claims the house has a dark side and she has abandoned the property.
As Nick and Katrina show up, Kristin explains that one of her first experiences was seeing the figure of a man. She has also been held down in bed and fears there is something not quite right with the attic. When Katrina gets to that spot, she feels there is something to be fearful of. When they hear footsteps, Kristin decides it's time to leave. Oddly, Katrina reveals she had a dream about an attic and a girl trapped inside.
They start the investigation in Kristin's room, which Nick says feels a little weird. Katrina says she feels pressure on her head and Rob observes an orb moving around at the same time. This is followed by a thump which could be coming from the attic.
Nick brings out the Geobox and claims he feels quite dizzy. They get a response that someone might be using their energy to communicate.
To bring the night to a close, Nick stays in the attic and Katrina sleeps in Kristin's room.
For Day 2, things get a little weird with the devices. Nick brings in device creators Steve Huff and George Brown. As they go to different rooms, they get a slew of voices coming through with such things as "Save us" and "Leave". In the attic they get, "the child", "sleep precious", "my blood", and "send the child". They also get the name "Ed" several times. From Nick's point of view, the voices want to attack a child.
For Day 3, Nick heads to the attic, while Katrina stays on the first floor. Nick gets words like "had a boy", "where is he", and "my twin". Katrina gets some odd phrases referencing jumping out the window. As they line up the editing, they make it out to be the spirit energy is trying to get Nick to jump out the window and Katrina finds him just in time.
They take this evidence to Kristin who reveals a story that something tried to lure her son out the window and that he "was going to fly." It all sounds pretty bad. However …
When going through this investigation several things stood out. First, the house is a wreck. There is plenty of wood rot and water damage with the attic ceiling clearly ruined by a leaky roof. And since there is water damage, there is a sagging floor which explains why Nick felt dizzy and why that wardrobe door swings open. Watch as the footage is cut right as the door starts to open.
As always, the thumps and footsteps are animals nesting in the place. Katrina's pressure or "wave" is most likely the smell of rot and decay with a dash of mold smacking her in the face. Renters won't stay because the place is falling apart.
The recorded voices are interesting and there are plenty of them. So many in fact, the devices spew words the moment they switch on. And if you listen, there are completely nonsensical responses and responses that don't match a single thing they ask. They're picking up all sorts of interference and spitting it out. When the right word comes out, edit the footage and call it a hit.
But, this recorded evidence makes the house sound quite sinister. So sinister in fact, that Kristin has opened it for tours, overnight stays, events and paranormal investigations. There is even a Facebook page and Web site. She has turned lemons into lemonade and your scare is her dollar.
Other Articles of Interest: