Ghost Adventures – Heritage Junction – S09E06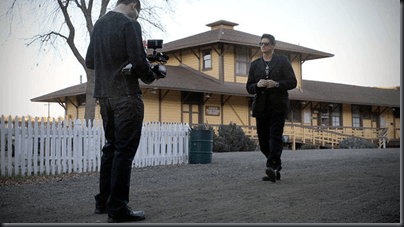 For this episodes our intrepid trio is just north of Los Angeles in the Santa Clarita valley at Heritage Junction to investigate claims of the paranormal. It's town full of preserved buildings from the bygone era of steam railways. When those buildings began to crumble, they were brought here. But apart from being a museum, it's claimed there are some sinister stories to go with the buildings. First, there is the death of a trainman, who unfortunately was killed when the train he was on top of went into a tunnel. There is also the story of a woman who died in one of the homes when she was shot through the heart. It is believed her husband was behind the shooting. Either way, this is looking like a cold blooded murder or a tragic suicide. But they did unravel the true story of what happened.
As they gather background stories about the place they come across a man who claims to have seen a figure in the window not more than a few hours ago and an investigator who had a negative experience when she was scratched by something. She ventures back into the house and once again feels a negative energy and feels like she's been scratched. Both she and Zak compare notes to say they felt angry and aggressive after their time in the house.
Additionally, they get in touch with Marti and Michael Parry who have investigated the location previously. For this go round they feel they make contact with spirits that are associated with Nick. They pick up on the name Helen, which Nick believes is Eleanor which is his grandmother's name. There is also the suggestion that other family members who have recently passed are in this location with them. How strange that they make the jump from Helen to Ellen to Eleanor and that it's associated with Nick as well as spirit energy just tripping around the country with him.
As they start the investigation they get the usual sounds of bangs, bumps, footsteps and mumbling. That's pretty consistent across all of their investigations no matter where they end up. Zak feels he hears the sound of a pipe dragging across the floor when he asks for the spirits to make a noise for him. When they leave the spirit box running they feel they get the words, "Please… Aaron… It's him." It's also in this same room where they leave the spirit box running after they leave that all sort of voices can be heard, voices they think say "Betty… Stop."
Later on Zak feels he's pushed by an entity when he tries to walk up the stairs. This is the same force that Billy feels when he walks around the location earlier that same night. I'm sure there is no way it could be an off kilter stair or a staircase that simply leans to one side that throws them off balance.
We also have the old orb in the back of the head trick. Aaron makes a comment about how he feels then grabs the back of his head. Right after there is a ball of light that mysteriously floats up and disappears into his noggin. To be blunt, I'm sick to damn death of these stupid orbs and how they go into the back of people's head and manipulate them. I just can't behind that and it such a worn out idea. Is Aaron really puppet for every ball of light that comes dancing along in an old building?
So in the end they have all the sounds you would expect to hear from an old building. There are creaks, bumps and footsteps. However, this one comes with voices that murmur when no one else is around. That is sort of interesting, but seriously, there are plenty of explanations for that sort of thing not the least of which is air, boards settling and animals moving around.
While the stories of this place are neat, it seems that's all we've got, stories. The psychics can draw whatever pictures they want and claim you're relatives are standing behind you all day long. In the end not a whole lot happens on this investigation and no matter how dramatic Zak tries to act, sometimes and old building is just an old building.
Other Articles of Interest: