Ghost Adventures – Fort McArthur Museum – S09E07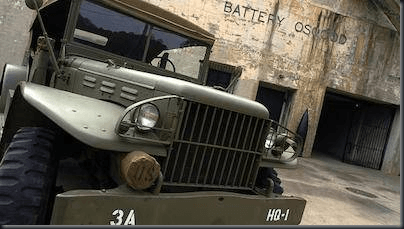 For this episode, the intrepid trio heads out to San Pedro California to the Fort McArthur Museum that was established in 1914 at the start of World War I. As with anything associated with the military during war time, this Fort has it's share of accidents and deaths, but there are a couple of events that stand out. First, there is the recent event where a man walked up from his car with a shotgun in his hand just to kill himself inside the walls of the fort. Secondly, this is the location of the Battle of Los Angeles, which occurred in 1942. Without warning, the command was given to open fire on what the troops thought was an enemy air attack. Thousands of shells were launched, but no aircraft of any kind were shot down. In fact, no wreckage about the enemy was discovered at all. The troops were literally shooting at nothing. Some believe they were shooting at weather balloons, while others believe they were shooting at UFOs. No confirmation either way has ever been given.
As they tour the facility they speak with a couple different people who claim to have seen figures walking around. One claims to see a man in a small brimmed hat, while another claims to see men disappearing into some dark portal in the middle of a solid brick wall. We have another guest appearance from Marti and Mike Parry who also believe there is some portal to the other side and Marti tries to walk down the darkened corridor before realizing it's solid. Mike believes he makes contact with two different men, one of which tells him to go to the supply room where the military uniforms are kept. This is clearly mysterious because no one knows this part of the tour exists, except of course Zak and now everyone else who watched the episode. Since tour guides never take people back there, clearly it's a hush hush secret. And of course talking about men with small brimmed hats and in uniform is quite unusual when visiting a military barracks. You pretty much have a 50-50 shot of getting that right. They also believe they have made contact with an Ashley Radcliffe who was enlisted as a private in the apparently easily obtained service man list.
So with the investigation underway they believe they make contact with one of the spirits, Jason. He only gives his first name then disappears until the very end when they think they hear the same voice say, "Lisa". During the course of the night they hear quite a few noises, bangs and dragging sounds – perhaps even the sound of someone coughing. Zak reveals that he's been told a lot of things "off camera" so there is no way the psychics or other guests would know the history of the fort so it confirms all the events they're experiencing.
Not much evidence is coming through so Zak fires up the full spectrum camera and believes he captures a full bodied apparition. Once he zooms in all the way and moves the point of view around he believes he can make out the head, shoulders, torso and even the legs of a soldier at the very far end of the hall. Shockingly, it's not in the next photo. He feels this is compelling evidence of confirmation that one of the spirits manifested itself. I suppose that's one answer, or it could be matrixing and the sincere desire to capture something down there. But I wasn't there so who knows.
For the last few minutes of the investigation, Zak once again works with the spirit box to try and talk to the man who committed suicide there in 2009. He gets the words "pain" and then what he thinks is "quiero" – Spanish for want. Interesting replies, but I'm not sure how that ties in with anything.
When all is said and done I think Fort McArthur is more interesting because of the events in 1942 where thousands of rounds were shot into the sky in an attempt to hit an oncoming enemy, yet when the sun came up, they didn't hit a damn thing. People can say there is some sort of dark portal to the other side down in the basement of the fort, but considering the extremely low level of evidence, I think we should just take this as a regular war museum and just pay tribute to the men and women who have served and sacrificed for protecting this country.
Other Articles of Interest: