Ghost Adventures – Lemp Mansion and Brewery – S10E02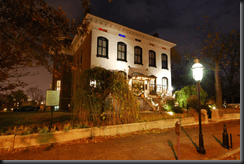 For this episode the guys head out to St. Louis to investigate the Lemp Mansion and Brewery. The Lemp family came to St. Louis from Germany and established the first Lager Brewery. This was a new style of ale for the region and it took off with great success. Unfortunately, the family was plagued with tragedy as 3 members of the family committed suicide in the home.  William Lemp Sr and Jr both killed themselves in the house via a gunshot wound to the head. Charles Lemp later died the same way and was the last Lemp to live in the house. Not to be outdone, Elsa Lemp, daughter to William Sr also took her own life by way of the gun, but she died at a different residence. Clearly, there are cases of instability and most like mental illness in this poor family.
But mental illness isn't good enough for Zak and the gang. Oh no, this has to be the work of a curse and it has to be tied to the Native Americans. The problems with this family have are because of dark energy and must be linked to the tunnels under the mansion and brewery. It's rumored the Indians used these tunnels and they of course suspect restless spirits are at work down there. This is confirmed when they aren't able to open one of the doors that leads into the tunnels. Let's just ignore the fact that the workman says he doesn't have the keys.
This certainly ranks as one of the worst episodes and really proves that Zak is an arrogant ass, a bully and quite frankly a pansy. I first have to say I'm sick and tired of their cut scene reenactments that are so over the top as to look stupid. The whole intro to this show talks about their credibility and their reputation and then within seconds they're showboating and using theatrics to try and make the place dark and sinister. It's pretty damn pathetic.
But on to the investigation. It should come as no surprise that even before they walk in the door, Zak is talking about all the dark energy and the family being cursed. This coupled with the horror movie style dramatizations seals the deal that this place is demonic right off the bat. No need to be objective, their minds are made up and they are shaping the show to fit their mindset. Is it me or does it look like they're modeling their characters after those in Grave Encounters?
The claims are also pretty damn outrageous. Pictures are supposedly turned upside down and chairs move around the place. There is also the feeling of sadness and loss as you go from room to room. There is even talk that the spirits yell at you.
As they investigate they of course see orbs of energy flying around and every voice hey hear is dark and sinister. There's even the standard slamming of the metal door.
The big moment to me was Zak down in the cellar of this building where he about soils himself, yet again. He claims he's uncontrollably staring into the room and then when he hears a noise he jumps out of his skin and damn near knocks everyone out of the way to make an escape. He then bullies Aaron to go into the same room because he's too damn scared to do it himself. Seems like Aaron and Nick are a bit tired of the crap and opt to leave him down there alone while they check out the upper floors. Zak damn near has a fit and starts spewing obscenities at them. They keep going and ditch him.
Shortly thereafter Zak's flashlight goes out and he instantly starts to panic. He's shaking, his voice is cracking and he demands Nick and Aaron come back to save him. You can even see when he hears a noise he almost soils himself a second time he's so damn scared. I was laughing at his plight and how much of a pansy he is when left on his own. He did this same damn thing last episode where some blob shows up on his Xbox Kinect and his voice goes into a shrill panic that something is coming right at him. My god, he's been doing this for 10 years and this is what happens when he's alone? Grow a set!!
Since nothing is happening with this investigation they turn to the standby of orbs and "I feel heavy sadness in this room". Junk is flying around the room which Zak states is spirit energy and while laying on the bed in the Master Bedroom he says how sad he feels. Give  it a rest.
They didn't capture anything of note in this investigation, but since they made such a big deal about the dark energy, curses and Indian burial grounds, they have to milk everything little thing as much as they can. Plus, what sort of haunted restaurant can the owners run if these guys don't find anything? Sales would plummet!
Yes, the Lemp family suffered a great deal of loss in this house, but they don't have anything that supports their baseless claims. They scared the crap out of themselves while standing in the dark like Shaggy and Scooby. Seems more likely this family had illness and they sadly crumbled to the pressures they put themselves under.
This episode was a joke and I can do nothing but laugh at just how childish Zak can be.
Other Articles of Interest: