Ghost Adventures – The Zozo Demon – S10E03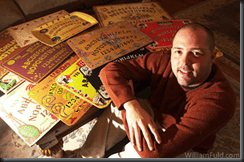 We're off to Oklahoma City to investigate a house where a man used a Talking Board also known as the Ouija to contact the spirit world and it's believed he let through a spirit named Zozo. This is supposed to be a dark energy and one that cause harm and even inflict sexual assault on it's victims. The door was originally opened by Darren who believes he was possessed by the spirit. He also states that odd things have been going on inside the house and now he and his wife are afraid of their home.
Zak states that Zozo is an evil entity and there have numerous reports of Zozo being conjured by these boards. He then meets with Robert Murch, Chairman of the Talking Board Historical Society. Interestingly, Robert says the more people believe in something the more real it is to them. He also states a lot of people say they contact Zozo. However, from listening to him, he doesn't really state that using the Spirit Board actually opens a door. It's more that if you think something has happened, then in your mind it did. Basically, if you wander around in the dark with the idea you're chasing the devil, then in your mind that's the reality. That's the crux of it, you've convinced yourself something has happened regardless of whether or not it really did. So when Zak convinces himself that a place is haunted then in his mind everything is slanted to that end. Regardless of how things really play out, that place is haunted. And obviously, Zak believes this place has the devil inside.
To start things off and to show just how dangerous this house is, they bring in the handyman and have him sit on the stairs. Within seconds he's saying something is brushing up against him and he bolts for the exit. Zak decides he needs to sit there with his Mel Meter that shows 1.0 and 1.1 repeatedly as a reading. To Zak, this is Zozo being spelled out. Ok, sure, whatever Zak.
There is a lot of talk about all the noises that go in the house. Not to be rude or judgmental, but the house is a shit box. Look at the walls. Look at the stairs. Look at the basement. The whole damn thing is falling apart. The stairs are insanely narrow and sagging. The wood is split, the walls are dirty as hell and everything about this place makes me feel like it's going to topple over or someone is going to fall through the floor. Really? You're surprised this place has creaks and makes noise? God only knows what's living in those walls.
The investigation consists of Nick and Darren sitting around the Talking Board with the intent of contacting Zozo. They have to throw out their cautionary words of using the Board and opening a portal to hell. Again, I'm simply stunned with how easy it is to conjure demons from the depths of hell using cardboard covered in letters.
It should come as no surprise that the planchette starts to move back and forth and spell out Zozo. Wouldn't we all be embarrassed if it spelled out something else? Of course, Nick repeatedly states he's not moving it and it's all outside of his control. Just who is he trying to convince?
But it's during this time that the house starts to make all sorts of noises such as bangs and footsteps. Nick speaks of electricity charging through his body and down to his fingertips. The same fingertips that he assures everyone are barely touching the board.
Kathleen, Darren's wife, decides this is a good time to make an exit because it's all just to scary and dangerous for her. Nick and Darren keep at it and Zak is mystified how the word Zozo keeps getting spelled out.
Kathleen then makes a reappearance in a confused state and her belt undone. Zak jumps to the conclusion that Kathleen has been assaulted by the spirit energy. Kathleen even states the demon wanted to see her tits. Pervy little devil isn't he? Dramatic effect for the sake of ratings? Clearly not.
As usual when there is supposed demonic energy around, Zak sits off on his own in a trance like state. He's caught in a web of emotion and can't move. He gets stuck like that a lot. Kathleen seemed to slip out of the demonic grasp and has wandered outside and disappeared. Oh no, she's been lured outside by a demonic force. Zak jumps into his rent-an-suv and gives chase. He doesn't have idea which way she went or how the neighborhood is laid out, but that won't stop him. Good thing the pursuit comes to an end mere moments later when Darren catches up with him and says he took Kathleen back to the hotel. Hmm, she has her belt undone and a lusty look in her eye and there is a hotel near by. Say no more my good man!!
Nothing is said of where she went or what happened. It's better to remain vague and mysterious about these things. Zak links the howling of the dogs he hears in the neighborhood to this visit by Zozo.
They decide switch things up a bit and have Darren work the Spirit Board with Jay, the other sound technician for the show. He had a bad experience using the Ouija years ago where a friend tried to stab him in the throat with a dagger after they conjured their own Zozo. Boy, that Zozo gets around doesn't he?
With Darren and Jay at the helm the dark force spells out kill and that he will manifest within Nick. More trouble breaks out as Zak tells Nick what to do while he's safely tucked away somewhere else. Even the demon thinks it's funny as he spells out HA-HA, because that's what spirits do. They don't actually laugh into the digital records and say, Zak you're a jackass, they spell it out like it's instant messaging.
There are more bumps and bangs and even a couple more unexplained voices. It's all manner of chaos when the devil is in town. And as they decide to wrap things up, they're on edge that the devil is going to come through Nick.
Yes indeed, we had plenty of bangs and bumps and knocks in this POS house. This place is a wreck so who knows where all these noises are coming from. I'm not going to believe that the devil or some minion of the devil known as Zozo is going to choose this place to make his grand entrance. And I'm still not going to believe that the Ouija is a tool for contact spirits. I don't care that Nick felt the planchette move. This all seems like the plot of a bad B-rate horror movie. Could it be any more cliché? Could it be any more predictable? The only thing missing was pea soup.
Again, if you think something is real, your mind makes it real. After all, isn't that what the Matrix taught us?
Oh my goodness, oh my damn!  Have a look at these screen grabs. The top picture is taken of Kathleen at the top of the stairs. In my recording this is at 20:27. The second image is Kathleen on the stairs supposedly taken less than 5 seconds later. In my recording this is 20:32. Notice her belt is indeed undone and hanging open.
Just as Ash commented, something isn't right about this. You can call it what you want, but to me this looks like a whole lot of faked evidence. Anyone with an HD capture of this same time frame want to comment?
It took several years for Jason and Grant to get caught with this same sort of silliness, but it eventually came back around on them. Looks like we have the same thing going on here. I think it's time to call bullshit on the Ghost Adventures team.

Other Articles of Interest:
18 Responses to Ghost Adventures – The Zozo Demon – S10E03