Ghost Adventures – Samaritan Cult House – S14E03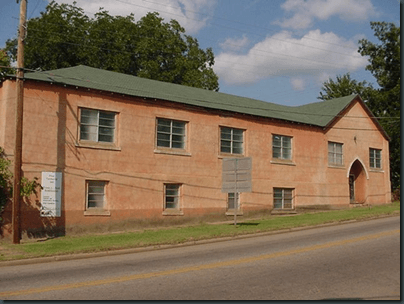 From his previous adventure at the Stone Lion Inn, in Guthrie, Oklahoma, Zak visits the Samaritan Cult House, a prison established in 1892, then used by Linda Greene and her cult following. There are claims of links between Linda and David Koresh as well as terrorist acts like the Oklahoma City bombing. There are even claims that Linda murdered her husband and mutilated his body.
Carol Hirzel is the current property manager, and while she doesn't really visit it, she believes Linda was there around 1993 and used crystals to ward of negativity in people. As we hear more about Linda, it becomes pretty clear she was mentally unwell. She had a fear of barcodes (which will become important later) and felt you could push negativity on celebrities or soy milk, whichever was handy.
As they enter the building, it's clear the place is a wreck. It has black mold, the ceiling is falling down, there is a massive hole in the floor and the structure is unsound. This is also something to keep in mind regarding the noises they keep hearing.
Right from the start, Zak believes the building is haunted by a demonic entity. He thinks he sees something demonic lurking under the hole in the floor and when he talks to Chris Biggs and hears about a little girl, it's his belief that was a demonic entity pretending to be a child. So before he captures even one piece of evidence he's convinced himself of the demonic and this is coming to him through his "third eye".
His theory of the demonic is proven further when investigator Chris pulls out two cards used by the cult. It has symbols they would use and are clearly ritualistic – according to Zak. It's ironic these cards were so easy to find and just happened to be sitting there for this investigation.
Just as Zak gets ready to start the real investigation, he has another surprise for us, Darren Evans of ZoZo Demon House hokum fame. He's back with another Ouija board and is ready to conjure a demonic spirit for Zak. And it should come as no surprise to anyone that using the cards they just happened to discover and placing them with the Ouija, that ZoZo should appear. All this amidst Zak and his twitching.
But there are more high jinks as ZoZo antagonizes Jay over a family secret that no one is supposed to know about. Just like in the movies, the board spells out "kill" and "get out" then goes on to spell "Jay" and part of "family" before writing the word "kidney". We're then let in on the secret that a member of the family has kidney failure. There is also the remarkable coincidence that the symbols on the card are a J and a W and on the back is written "bladder" and "circulation". Even more astounding to believers will be the number "1119" which is written on his bar code tattoo, which is supposed to outrage Linda, and it's his birthday. Clearly, each  of these is signs of the demonic! Or so thinks Zak.
Before we leave this formidable house of evil, a board in the massive pile of debris on the side of the room, falls down. Or in Zak's mind, levitates and is thrown!
I think I'll stick with the more earthly explanations.
Other Articles of Interest:
7 Responses to Ghost Adventures – Samaritan Cult House – S14E03