Zozo, Darren Evans, Robert Murch and Darkness Radio – A Zozo Hoax?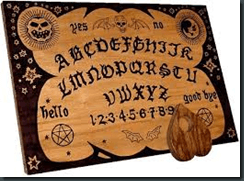 I'm still curious and extremely skeptical of this Zozo phenomenon so I keep reading about. The whole thing seems absurd to me. The Ghost Adventures episode was a total farce, but this Zozo idea seems to be everywhere. In my searches I find that Dave Schrader of Darkness radio invited both Darren Evans and Robert Murch to his show to talk about the Ouija, it's dangers and the upcoming movie. Both Darren and Robert were featured in that same Ghost Adventures, Zozo episode. And if you recall, Robert didn't actually say the board would contact the spirit world. He made the statement you would get out what you put into it.
I listened to this show and was quite taken with the comment Robert made. He is a Ouija historian and will soon be the curator of the official Ouija museum. In fact, his knowledge is so vast, that Hasbro goes to him when they have questions about the board and it's origins. He brought up a slew of interesting facts and he even owns thousands of the boards.
One thing to keep in mind is that the Ouija is hundreds of years old. It's not something that just popped up as a board game in the 80s. It was a huge part of the Spiritualist movement in the very late 1800s. Bear in mind that figures like Houdini and Sir Arthur Conan Doyle were part of the Spiritualists. It was their belief they could contact the afterlife and the board was a simple way to spell out messages. It never took on a demonic or satanic overtone. That would come from Hollywood and the movies.
It was the Exorcist that pushed the Ouija into a dark place. That was the way little Reagan unleashed the spirit that haunted her. Ironically, that spirit name was Pazuzu. Even though the board was barely mentioned and barely seen, it was typecast in the demonic role. Now, when you touch a Ouija, out pops a demon. Something that was used by scholars and learned writers is now a toy used to contact the devil while you hide in your closet in your pajamas.
This also seems to be where the mythical name Zozo comes from. Pazuzu becomes Zozo because no one call spell Pazuzu. There is actually no reference to Zozo.
But during the discussion, Robert Murch doesn't really give any indication that Ouija boards are bad or that they even work. He even goes so far as to say if you have a haunted board he'll take it off your hands. So, if Robert has all these boards, why isn't he haunted and tormented?
All the while Darren sticks to his story of how dangerous the Ouija is. Don't touch it, don't see the movie, don't even look at the damn thing or a spirit will attach itself to you. He is utterly fanatical as to how dangerous the board is. He even says sales will go up and more unsuspecting people will be exposed to evil because of the movie.
Dave makes several comments as to why Scrabble isn't haunted or any other "game". I mean seriously, what if you asked a question then pulled out tiles from the Scrabble bag. Would that make it demonic? Would a spirit be unleashed?
It all sounds utterly absurd and the same fool rhetoric we've heard in regards to D&D and games like Ultima and Diablo. Playing D&D unleashes the devil. Those kids did evil because they played D&D. No, those kids were messed up in the head and had mental problems.
One thing I did find interesting is that Darren says Zozo is a female spirit. This threw me for a loop considering the big piece of faked evidence in the Ghost Adventures episode was his girlfriend being molested and her pants undone. So she was molested by a female spirit who wanted to see her tits? The more you listen to this sort of thing, the more you roll your eyes.
So what about the board moving? People make it move because they desperately want to believe it will move. And the way the board is set up, words like Zozo are easy to spell. So is Mama and several other words that people claim are other names for Zozo. Even random guesses makes a pattern in this case.
When all is said and done, Zozo sounds like a massive hoax. The people who believe in Zozo are the same people who believe that Jesus comes to them in a waffle or pancake. Nothing about this Zozo story makes sense. Nothing about people contacting the devil through a Ouija makes sense. It's all in their minds and wishful thinking. And again, if it's so damn dangerous, why is Hasbro selling it? It's cardboard and plastic. There are Ozzy Osbourne Ouija boards. There will be a Supernatural Ouija when the show finishes it's run. Houdini and Doyle used the Ouija and they didn't get a spirit attached to them. What the hell are people thinking?
Could the Ouija be used to contact the afterlife? Sure, but so could Scrabble, Upwords, playing cards, the phone book and a dictionary.
Like I said, this whole Zozo phenomenon comes across as hoax. Everyone is jumping on a bandwagon and acting like their experience is the most haunting. Combine that with the shenanigans of guys like Zak from Ghost Adventures and you pretty much seal the deal this is all a fake.
Other Articles of Interest:
4 Responses to Zozo, Darren Evans, Robert Murch and Darkness Radio – A Zozo Hoax?