Ghost Stalkers – Farrar School – S01E06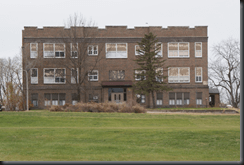 John and Chad head to Farrar, Iowa to investigate a small school that is believed to hold supernatural energy and even potentially dangerous entities. The town currently has a population of only 30 people and the school has been a focal point during it's history. But now, the school is reportedly home to some dark energies and other investigators have made the claim of seeing dark shadows and being pushed. Oddly, there is no reported events of death or tragedy in this place. From everything they can tell, this is a normal school that simply did it's job to educate the young children of the area. So where did this legend of paranormal activity get started?  John has a couple of theories.
He thinks it may have started with the energy seeping over from the cemetery nearby. This was then coupled with paranormal investigators who used Spirit Boards to try and communicate with the dead. He believes this may have opened a gateway and something slipped through.
So what does the evidence reveal?
Chad is the first to take a solo tour of the school and as you might expect it's riddled with him screaming out into the darkness and every bang, bump and creak from an old and abandoned building. At this rate, Chad is going to give himself a heart attack.
While investigating he feels he hears footsteps and someone whisper "God dammit Chad" into his recorder. He now feels he may have angered the spirit known as The Principal.
John is up next and he has a few surprises of his own. He sits down in the boiler room where a group of investigators supposedly were on the receiving end of some shoves from an unseen force while using a Spirit Board. John believes this sort of behavior has brought the entity into being. He feels cold spots repeatedly going back and forth over him. He hears some bangs and what he feels is a tap in response to him asking for a sign.
But, up on the third floor is where John feels he has his biggest encounter – with a dark shadow figure that appears out of nowhere. His sketch of the figure makes it appear to more of a female figure, but unfortunately we don't get more than his sketch.
He also runs into trouble with his recorder. While in the school it no longer picks up his voice and records anything. All he can hear is static. When he steps outside the door to the school, it works as expected. Back inside, the recorder malfunctions again. What do we have here?
After all is said and done, they have a few interesting personal experiences but no tangible evidence. Do we really have a haunted school as John suggests? With a guardian spirit that watches over the school, but keeps the living at bay? Or is this simply an old school building, whereas with any old building, stories have been started and rumors have formed. Is this an example that people can convince themselves of events even when there's no evidence to support them?
What do you think? Does the Farrar school have entities or residents with active imaginations?
Other Articles of Interest:
One Response to Ghost Stalkers – Farrar School – S01E06