Expedition Unknown – Incan Mummy – S02E26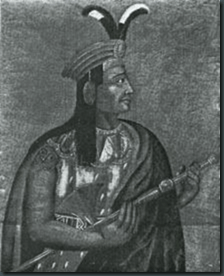 In continuing his adventures and exploration into lost cities and cultures, Josh is on the trail of a lost Incan ruler, Atahualpa. He was the last great ruler of the Incan people, slain by the Spaniard Francisco Pizarro during the Spanish conquest. Pizarro demanded huge amounts of gold from Atahualpa, and even though he complied he was still sentenced to death. At first, Atahualpa was to be burned, but pleading for his soul, he converted to Christianity and was then strangled. He needed his body in tact so he could be mummified and rule in the afterlife. However, his body is believed to have been whisked away and it's current whereabouts is unknown.
As Josh gets to know the history of Ecuador, he learns that the Incas came to this location because of the equator, to be closer to the sun. Josh also reads accounts of a sailor seeing a body and procession. While not specifically calling out Atahualpa, it fits the time frame and location. Also within the archives is the will of Atahualpa and other family documents. It's shown they have private land where the body could have been buried, which would have kept with the custom of the time. The mummy would have been removed because it was the belief that if you had the mummy you had the power of the Incan people. It would have been an extremely influential symbol of power.
Josh then links up with German Molina, who is searching for the tomb. He's found multiple Incan ruins covered by the jungle. They have aqueducts that still work after 500 years. There are also structures made from large rocks, in the shape of square that could be a temple. They believe they have found a location where the mummy would have been kept for a short time.
But the main resting place may be higher in the Andes mountains. From what they have been told, there is a farmer with promising artifacts and while he's not willing to be shown or heard on camera, he brings out a sun necklace. It's made of copper and gold and represents the sun people. Inspired by the find, they head further up and find man made paths as well as the remains of the Pucara or guard towers.
They discover an opening and after jumping inside, discover an ancient pin, again made of copper and gold, that would have been used to hold clothes together. But there is still more to be discovered as they head to another location where aerial surveys have shown some promising leads.
As they take images with the drone, it's revealed the hill doesn't have a natural contour, more of a stair step or terraced effect. As they map it, it begins to look man made with more of the watch towers on the perimeter. They also discover another trench which looks like it could lead into the interior of the mound, but has since collapsed. At the top of the hill are large stones that are not native to the region, and were most likely brought for a specific purpose. After surveying more of the features, they believe they are standing on a massive Incan fortress. They aren't sure if it's a tomb, or if Atahualpa would be buried there, but when taken with the towers and other relics already found they believe a much more thorough investigation and exploration is needed. Even if not the burial site, it's a location of significance. And I have to say, the jungle and landscape is absolutely amazing. The lushness of that area is breathtaking.
Again, it seems they are right on the cusp of making an important and exciting discovery. Whether or not they find the Incan burial site remains to be seen, but it looks like they are about to unearth a major archaeological find which may reveal a slew of information not only about the lost king, but about the culture itself.
Other Articles of Interest: