Expedition Unknown – Shangri La Found – S02E22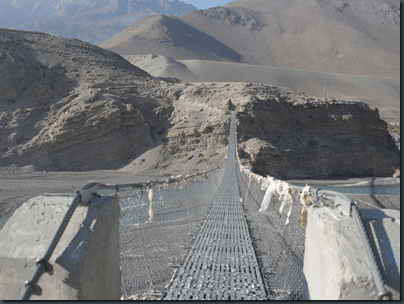 From our previous outing, Josh has hooked up with Mark Aldenderfer who is documenting thousands of caves carved into the side of the mountain face. Within this remote region he has discovered temples and paintings left on the cave walls from hundreds of years ago.
But there are more discoveries ahead as Mark finds a rock tower that turns out to be a burial chamber. Inside are remains, bleached white by the sun. They are within an area described as a sky burial. The deceased is brought here and their body is returned to the earth as it were. The remains are left out until only the bones remain. It sounds a bit grim, but the practice and the location are still being used.
In Lo Manthang, Josh stops at a small temple to meditate. It is another remote location and the idea is to remove all external distractions. The idea of achieving peace and harmony is a common theme.
This is also the location Mark has been lead to with dozens more caves that haven't been explored. Not only are they extremely remote like the others, but they are also 100 feet or more off the ground. Josh and the team have to use rock climbing gear just to get into them.
The others were dangerous, but these appear to be even more so.
What Josh finds is a series of interconnected chambers, a small city within the rocks. From the pottery and animal hides as well as the charred ceiling from cooking fires, this was a heavily occupied area. It's conceivable that hundreds of people lived in these caves away from any form of attacks and dangers.
As Josh is heading back down, he makes an exciting discovery. Another wall of paintings using the same pigments and styles they've seen before. It turns out to be a Buddhist chant, one that has shown up on other temples in the area. Mark believes the people would live in the caves to preserve the small amount of farmland, which is set up as a series of terraces. They would use the land for crops, then store and protect it in the caves.
For their final destination, they are taken to an extremely remote temple. They have to use horses to make the final leg, but even the horses have to be lead up the incredibly steep and narrow winding paths they find.
And this is no ordinary temple as the location is kept a secret, known only to a select group of people who protect and watch over it. One of their party is a monk who literally holds the key to open the door.
The temple is a holy meditation shrine with vivid paintings on the wall, with masks and carved statues. It's incredibly detailed and adorned for such a remote location. But the inner sanctuary holds even greater discoveries. They enter a room filled with carved deities, the protectors of the monastery. Each is painted in vivid colors and highly decorated. These deities are also holding weapons, armor, swords, shields and even crossbows. Each one is most likely hundreds of years old and a fantastic treasure on it's own. It's amazing that things exist in such a staggeringly remote location. And clearly many people have visited this shrine and left their mark on it.
So is this Shangri La? Is this Utopia? If your looking for something along the lines of the Seven Cities of Gold, then no. But, if the Utopia is that of meditation, enlightenment, one with nature and it's surroundings, then I believe this to be the spot. It's remote, away from war, away from distraction, disease would be minimal and it's hidden among the clouds where a person can live simply off the land and meditate on their spiritual well being.
It may not be as glamorous as the tales make it out, but it fits the description pretty well.
Other Articles of Interest: