It's never too early to start building your collection of Halloween themed games for the iPhone. MonsterKill by Origin8 is free for today. A fun little castle defense game featuring all the classic monsters such as Mummies, Dracula and the Wolfman. The graphics are very good and it's a lot harder than you might think.Give it a try, you have nothing to lose!
REVIEWS
AppVee.com
"Overall, it is obvious this game was designed masterfully as the graphics and gameplay are well-done."
appVersity.com
"Awesome death animations…Great game modes for extended replay…Strategy elements…Halloween Theme"
AppChatter.com
"…MonsterKill is a great game that is fun and has great graphics…"
Appmodo.com
"If youre like me, there are two things in this world you cant live without castle defense games and zombies. With MonsterKill you get a fresh new way to defend your castle against zombies, vampires, werewolves and Frankenstein monsters. Sounds perfect? It is!"
AppAdvice.com
"If you are into castle defense games, MonsterKill is absolutely worth a look"
THE GAME
They're cute, they're cheeky – you just want to squeeze the life out of the little monsters!
Hordes of tiny terrors have broken free of their chains and are running amok!
CLASSIC MINI-MONSTERS!
The Mummy aka The Geezer
Count Dracula aka Vlad
Werewolf aka Scott
Frankenstein aka Frankie
… you've a few tricks up your sleeve to deal with these guys:
TOUCHSCREEN GESTURES
Summon a variety of spells as you battle against these classic mini-monsters.
Slice and dice them – cut them in two with the cut spell!
Summon lightning – give them a shocking experience!
Turn up the heat by casting fireballs – watch 'em burn!
Need to slow them? Sculpt an ice block to stun them!
FEATURES
Simple gesture system to summon spells
Stunning characters, animation, backgrounds & fx
Multiple game modes: Normal, Endless & Onslaught!
OpenFeint for online high scores & achievements!
Awesome music & sound effects by Earcom!
iPod music library access (for OS3.0+ users)
Automatic game saving
VIDEO
http://www.youtube.com/v/f_7yrFbNZdM
or check out http://www.origin8.com/monsterkill

Other Articles of Interest:
Here's an interesting twist on a theme; instead of escaping the zombie horde by means of shutgun and flamethrower you are the infected and it's your job to create even more mass hysteria by creating an even bigger zombie horde. You run around gnawing people on the head, turning them into zombie while the masses try and stop you.
And as with any good game there are powerup and skill upgrades. It's crazy and absurd and it looks like a whole lot of fun. There's zombie games galore, but it's not every day you get to be the zombie. And seriously, it's only $0.99.
66% OFF SALE TO CELEBRATE THE LAUNCH!
be zombie! infect them all
Infection zombies is a game that can make zombie world by infecting and eating people.
You can enjoy this game with easy and simple controls.
You are gonna fascinated by the combination of dynamic actions factors and simulation factors which make more and more zombies
FEATURE
– 3 types of playable zombies
– 20 types of enemies unit
– You can team up with tens of your zombies in a melee.
– A huge scale shows more than 150 enemies at a time
– 7 abilities which can be upgraded with 30 levels
– 50 stages of campaign modes
– Survival mode aims for how long you can survive
– Blitz mode, in which  you have to gain scores as much as you can within limited time.
– Openfeint highscore and acheivements
– Support two ways of control: Gyro sensor and pad
– Original sound and voice
– Outstanding Artwork.
– Additive play
You can check out a video of the gameplay at
http://www.youtube.com/watch?v=UL_-p2fkJX8
Other Articles of Interest:
Ask The Tiki is ready for download in the app store! It's free and should only take a moment get. Plus, its features and capabilities are so awesomely powerful that you need iOS4 in order to run it! Jobs is at one with the Universe and the Tiki taps into that power to bring you spiritual answers from beyond this plane of understanding.
So while you're downloading iOS4, you should take a moment to bring peace and enlightenment into your life and download Ask The Tiki. You have nothing to lose except doubt and uncertainty.
Do you have questions about life and the meaning of it all? Do you have doubt and uncertainty about what to do next? Are people looking to you for answers but you have nothing to offer them?
Have no fear, Ask The Tiki is here. Don't dwell in darkness anymore, let The Tiki give you spiritual guidance. Clear your mind, concentrate on that which you really want to know, then ask the Tiki and be given divine inspiration. Be amazed and amused at the awesome fortune telling power of The Tiki. But be careful, The Tiki knows all. The Tiki tells all. The Tiki is brutally honest. Are you prepared for what The Tiki has to say?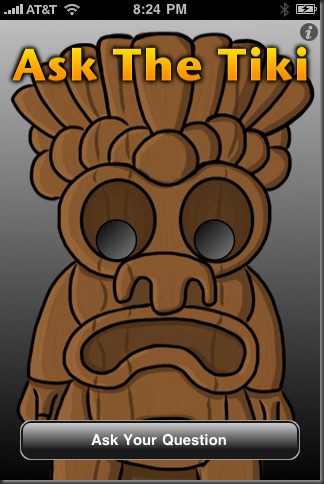 Other Articles of Interest: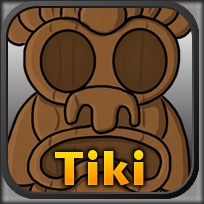 We have also submitted a new free app to the store. Ask The Tiki follows in the foot steps of the magic 8-ball and fortune cookies.  Think of your question and press the button to Ask The Tiki for advice.  However, it should be noted that this Tiki may be cursed. the advice you get isn't always helpful.  This app is also ad supported with the new iAd's system.
Game should be released around June 24th when the new iOS4 version comes out.
Other Articles of Interest: