Zombies HD
Inspired by Left 4 Dead and Alive 4-Ever, Zombies HD is the ultimate mobile first person zombie shooter, with the most advanced graphics engine on a mobile device to date! For more games visit www.RockingPocketGames.com
#1 iPad Adventure Game!! (Sept 13, 2011)
Designed to push the iPad 2 to it's limits, this game features per pixel dynamic lighting and shadows like you see on console games! The game is also playable on iPad 1 if you disable the effects in the options menu.
FEATURES:
– Use cash to upgrade your speed and other capabilities
– Variety of guns, all upgradeable
– 3 scenes each with 25 increasingly difficult missions
– Unique types of zombies: Crawlers, walkers, runners, tanks, poppers, jumpers, jumping tanks, and even pygmy zombies.
– Leaderboards and achievements using Game Center
– Realtime shadows
– Normal mapping, detail mapping, parallax mapping
– Freedom to move anywhere in the 3D environment
– 3D Audio (best played with headphones)
– 7 spooky and exciting background music tracks
CONTROLS:
– Analog stick to move,hold and drag in lower right to aim and shoot at the same time. Swipe anywhere else to rotate camera.
OR
Use the gyroscope to aim if your device supports that!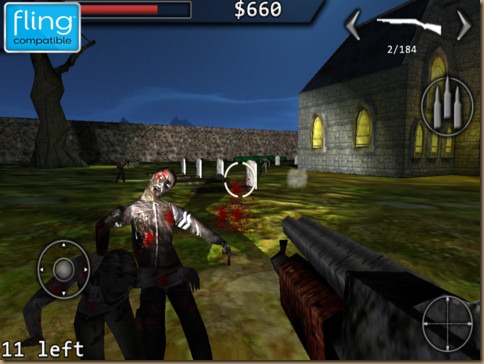 Crack O' Lantern
Free for Halloween! Happy Crackin'
The Objective is simple, crack your jacks on the wall or ground — use your cracked pumpkins to destroy the giant pumpkin to level up. Avoid ice and weapons, use fire for double points, and bombs to break up ice.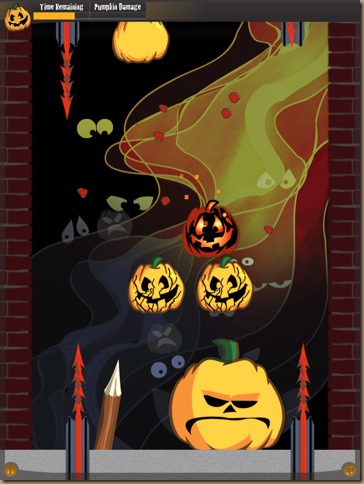 Halloween Soccer HD
Everyone is afraid of evil forces, but nobody knows that soccer is the secret passion of them. On the eve of Halloween witches, warlocks, vampires and other undead creatures emerge from the woods and swamps in order to find out who will be the winner in the annual soccer championship. Choose your own character, and we hope, you will enjoy the victory!
Halloween Soccer HD ™ is a splendid game that gives you marvelous feeling of victory. Playing for the undead characters you can see all theirs power and fury. Combining the various teams and soccer fields, find out who is stronger.
Meet in v 1.0:
• High quality graphics & sound
• Atmosphere in best tradition of horror films
• Intuitive one-click gameplay, you can play vs. CPU or vs. your friend at one device!
• 4 types of players
• 4 types of soccer fields
******
Don't forget to rate Halloween Soccer HD ™ 5-stars in iTunes when you buy it, get it for free or every time an update comes out!
Your 5-star iTunes ratings and reviews keep the updates coming!
******
Soon in next update:
• New characters and soccer fields!
• Unique bonuses for even more exciting and dynamic game!
• Facebook & Twitter!
• Game Center
• Other additional abilities for more your fun!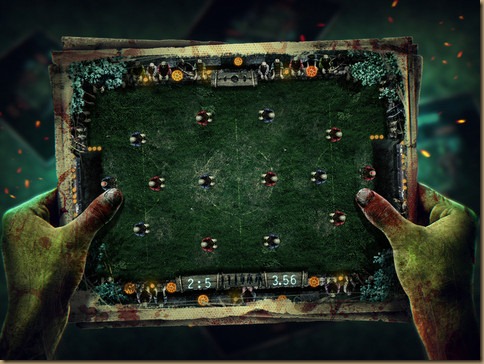 Other Articles of Interest:
Back in July of 2009 I got a copy of Zombieville and thought it was one of the best games I'd played. And now that zombies are front and center again, it's time to bring out Zombieville. But wait, there's something new. Not only has the game gone through some massive updates and gotten a slew of new content, there's an iPad version! It's bigger and better than before with some new weapons, there's even some vehicles you can use and you might actually find some other survivors to help you out. Once you've had enough fun growing zombie minions in Zombie Farm, you can flip the coin, grab your gun and ball cap and head out there to blast their damn heads off!
With the new content, Zombieville has been updated with a whole slew of new characters that have unique abilities and strengths. Some collect more money, some are stronger, some handle certain weapons better, some have better defense. Each character has a whole new look, and you can even fight off zombies while you look like a clown. F-this clown!!!
The controls have also been improved. You can switch guns with the touch of a button and breaking into homes and looting them for all they're worth is much easier this time around as well. They've really taken user feedback and improved the game in a variety of ways. Lots of really good updates. I haven't played Zombieville in awhile and clearly I'm missing out!
If you want to live the cartoon ZombieLand experience then you need to get this game. I have the iPhone version, but I'm going all in and getting the updated iPad version. It'll be just like blowing them away in 3D! Minus the 3D part.
Here's a quick gamplay video.
And in case you're wondering, there are 99 grueling levels to get through, but let's be realistic, most of us will never get there…
But we can dare to dream…
Other Articles of Interest:
It's never too early to start building your collection of Halloween themed games for the iPhone. MonsterKill by Origin8 is free for today. A fun little castle defense game featuring all the classic monsters such as Mummies, Dracula and the Wolfman. The graphics are very good and it's a lot harder than you might think.Give it a try, you have nothing to lose!
REVIEWS
AppVee.com
"Overall, it is obvious this game was designed masterfully as the graphics and gameplay are well-done."
appVersity.com
"Awesome death animations…Great game modes for extended replay…Strategy elements…Halloween Theme"
AppChatter.com
"…MonsterKill is a great game that is fun and has great graphics…"
Appmodo.com
"If youre like me, there are two things in this world you cant live without castle defense games and zombies. With MonsterKill you get a fresh new way to defend your castle against zombies, vampires, werewolves and Frankenstein monsters. Sounds perfect? It is!"
AppAdvice.com
"If you are into castle defense games, MonsterKill is absolutely worth a look"
THE GAME
They're cute, they're cheeky – you just want to squeeze the life out of the little monsters!
Hordes of tiny terrors have broken free of their chains and are running amok!
CLASSIC MINI-MONSTERS!
The Mummy aka The Geezer
Count Dracula aka Vlad
Werewolf aka Scott
Frankenstein aka Frankie
… you've a few tricks up your sleeve to deal with these guys:
TOUCHSCREEN GESTURES
Summon a variety of spells as you battle against these classic mini-monsters.
Slice and dice them – cut them in two with the cut spell!
Summon lightning – give them a shocking experience!
Turn up the heat by casting fireballs – watch 'em burn!
Need to slow them? Sculpt an ice block to stun them!
FEATURES
Simple gesture system to summon spells
Stunning characters, animation, backgrounds & fx
Multiple game modes: Normal, Endless & Onslaught!
OpenFeint for online high scores & achievements!
Awesome music & sound effects by Earcom!
iPod music library access (for OS3.0+ users)
Automatic game saving
VIDEO
http://www.youtube.com/v/f_7yrFbNZdM
or check out http://www.origin8.com/monsterkill

Other Articles of Interest:
Here's an interesting twist on a theme; instead of escaping the zombie horde by means of shutgun and flamethrower you are the infected and it's your job to create even more mass hysteria by creating an even bigger zombie horde. You run around gnawing people on the head, turning them into zombie while the masses try and stop you.
And as with any good game there are powerup and skill upgrades. It's crazy and absurd and it looks like a whole lot of fun. There's zombie games galore, but it's not every day you get to be the zombie. And seriously, it's only $0.99.
66% OFF SALE TO CELEBRATE THE LAUNCH!
be zombie! infect them all
Infection zombies is a game that can make zombie world by infecting and eating people.
You can enjoy this game with easy and simple controls.
You are gonna fascinated by the combination of dynamic actions factors and simulation factors which make more and more zombies
FEATURE
– 3 types of playable zombies
– 20 types of enemies unit
– You can team up with tens of your zombies in a melee.
– A huge scale shows more than 150 enemies at a time
– 7 abilities which can be upgraded with 30 levels
– 50 stages of campaign modes
– Survival mode aims for how long you can survive
– Blitz mode, in which  you have to gain scores as much as you can within limited time.
– Openfeint highscore and acheivements
– Support two ways of control: Gyro sensor and pad
– Original sound and voice
– Outstanding Artwork.
– Additive play
You can check out a video of the gameplay at
http://www.youtube.com/watch?v=UL_-p2fkJX8
Other Articles of Interest: