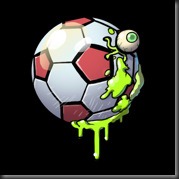 Just because the paranormal shows aren't on doesn't mean we have to run our backs on the Evil Dead. And what's more fun that combining the thrill of the World Cup with Zombies? Damn right! Pro Zombie Soccer!
Description
66% OFF WORLD CUP LAUNCH SALE!!! Like zombies? Love soccer? Well get your soccer gear on, 'cause it's time for PRO ZOMBIE SOCCER from Chillingo and Super Awesome Hyper-Dimensional Mega Team!
No one ever needed an excuse to go out and kill zombies. Or to kick a soccer ball around. But if you want an excuse to kick a soccer ball into space, realign an orbital weapons platform and launch a death-ray to explode the heads of the zombies sneaking into your soccer field – then THIS IS IT!
NON-STOP ACTION
Pro Zombie Soccer's intuitive control system offers a torrent of incredibly deep, satisfying and addictive zombie-blasting action, from free kicks to full orbital assault! This is high-quality iPhone gaming at its best.
BIG AND FUNNY
A horde of unique zombies; a locker full of cool abilities, combos and rewards; a laugh-out-loud twisted story that spans a series of varied, original and surprising levels … you won't want it to end! It's lucky the game's SO BIG.
STUNNING GRAPHICS
High-resolution visuals, fluid animations, and all the gore you'd expect from a zombie game! Incredible characters, environments and comic-style set-pieces draw you into a surreal, immersive world.
ORIGINAL SOUNDTRACK
Beautiful graphics and addictive gameplay are accompanied by a full, powerful new soundtrack from Badolatomusic.
Designed just for the iPhone, Pro Zombie Soccer comes from a brand-new developer whose founders helped create the super-addictive classics 'Plants vs. Zombies' and 'Worms'. Find out what the critics are raving about:
"Exactly the kind of cute yet hyper-violent entertainment we love" – PocketGamer
"A ton of fun … incredibly detailed … incredibly rewarding" – TouchArcade
"You'll smile from watching limbs and heads fly off" – Slide To Play
"You will want to own this game. … Killing zombies hasn't ever been this fun or creative" – No
DPad
"The art style and graphics here are great … this will be a must-buy" – Loot Ninja
"Entrancing … a simple-yet-scary, … breathtakingly tempting game!" – TechGadgets
Oh, and… have you ever been BITTEN BY A ZOMBIE? Because that's how the story begins…
http://www.prozombiesoccer.com

Other Articles of Interest:
We've made the final changes and just got done writing the app description. Everything is in place so we should be submitting our app to Apple today.
Just so you know, the app is going to be free for a limited time. It will be part of the entertainment category but isn't truly a game like Swords and Poker or Need for Speed. To give you an idea it will be a mixture of magic 8 ball, fortune cookie and tribal drums. Trust me, you're gonna love it!
Other Articles of Interest:
Over the past few weeks I've been involved in writing a new iPhone app (with Smiling Frog Software) which is now in its final stages of completion. The graphics and animation are in place, the test data is loading and displaying as it should and the results are coming out as expected. We're putting the final touches on it and going through the last set of tests.
With any luck we should be in the final phase tomorrow and then hopefully submit to the app by the end of the week. The only things left to do are minor tweaks to make it iPad ready. I think we're nearly there so I'm excited a release is imminent. And it does have a slight tie in with the paranormal, or at least the mystical so there's some relevance to material on the site.

I'll give you more details once we're ready to submit it, but it should be a lot of fun to mess around with. It's actually been quite an adventure and I'm hoping this will be the first of a couple apps we have planned out.
Stay tuned for more.
Other Articles of Interest:
Smashing Zombies for only $0.99? Clearly you can count me in!
It's got the word Zombie in the title, I had to have it!
DESCRIPTION
ZombieSmash! is a "Survival Comedy" game, featuring undead-themed castle defense and entertaining, physics-based gameplay. The game casts players as Joey, a lone survivor pit against a herd of writhing, unrelenting zombies – to defeat the undead masses, players must use their fingers to flick and smash them until they're un-undead.
• To aid players in their fight, over 20 specials and upgrades allow for creative zombie demolition – including fun implements like asteroids, wrecking balls, liquid nitrogen and a gigantic, rolling boulder – combine specials (for instance, smash nitrogen-frozen zombies with a boulder!) for added hilarity.
• Sophisticated ragdoll physics produce unique and hysterical zombie deaths, and the proprietary SplatterEngine™ renders adorable cartoon blood and gore in a convincing and entertaining fashion.
• Three game modes provide limitless replay value:
o Campaign Mode challenges players to survive for 31 intense days against the mounting zombie threat.
o Endless Siege Mode confronts them with a never-ending zombie assault – hold out as long as possible, racking up an ever-rising body count.
o Sandbox Mode gives you all the tools to rain destruction down on those stinking, moaning zombies without any of the peril.
• Social features including Chillingo's Crystal and Playhaven for online and community support, and the ability to share screenshots of your best ZombieSmashing moments!
• Original soundtrack produced by famed game music composer Chris Hülsbeck, the talented musician behind the scores to classic games like Turrican, Giana Sisters and the Star Wars: Rogue Squadron series.