Zombies for Easter!
LIMITED EASTER SALE – 66% Off!!!
Explore the wastelands of BioDefense in this unique release from Resolution Interactive that will revolutionize strategy games on the iPhone/iPod Touch platform.
BioDefense is a real-time strategy game where you're defending your base against waves of relentless zombies. Build your defenses well and expand your base into the pitch-black wastelands in the hunt for more resources. Beware of different enemy behavior and adapt your tactics or be overrun in the mayhem.
How long will you survive the zombie outbreak?
Key Features:
– Unique Mix of RTS and TD
– Play endless Survival Mode to unlock more content
– 10 Missions provides fast challenges
– 6 Unique Enemy Types with different behavior
– Large waves of attacking enemies
– Research Tech and upgrade your buildings
– Unlock Missions and Enemy info
– 25 OpenFeint Achievements
– Compete on OpenFeint Leaderboards
[TRANSMISSION START]
Entry 1124. A comet hits earth.
Entry 2345. Debris clouds blocks sunlight.
Entry 3638. Meteors rains down everywhere.
Entry 4563. Toxium is discovered in impact pools.
Entry 5342. Toxium is collected and used as energy source.
Entry 6125. Toxium exposure leads to zombification and mutation.
Entry 7354. Zombie outbreak containment has failed.
Entry 8832. Hostiles detected at base perimeter.
Entry 9002. Connection lost…
[TRANSMISSION END]
=====================================
Touch Arcade: "Redefining Survival Gameplay" – "You'll discover a frantic exercise in survival unlike anything you've ever played before"
Appolicious: "An RTS iPhone game that's tough to put down" – "It hadn't occurred to me until playing the BioDefense: Zombie Outbreak iPhone game for the first time, but real-time strategy games are perfect as iPhone games"
Pocket Gamer: "BioDefense: Zombie Outbreak remains an engrossing addition to the bulging tower defence genre" – "It emerges feeling simultaneously familiar and new"
CharacterArcade: "The vibrant sprites may get overlooked do to the larger playing area in this TD game, but you'll be too busy delighting in the massacre of hundreds of zombies to care"
AppSpy: "Striking a balance between simplicity and strategy isn't easy, but BioDefense is well considered" – "There's enough fun and replay value for even a hardened tower defense fan to enjoy"
PhoneBlog: "BioDefense: Zombie Outbreak has possibly the most addictive tower defense survival mode I've ever played on any mobile platform. You can't help but love it."
Appmodo: "Overall, the game is very addicting" – "BioDefense has definitely taken over my favorite game and has been moved to the first page of apps."
TouchGen: "A great game combining a user friendly interface, precise touch controls, frantic battles and great presentation." It caters both to the casual RTS gamer, and the hardcore TD fanatic. It gets my total recommendation."

Donwnload BioDefense: Zombie Outbreak
Other Articles of Interest: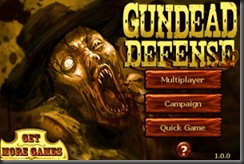 GUNDEAD DEFENSE – Wild West Zombie Tower Defense
The ONLY MULTIPLAYER Tower Defense Game for the iPhone and iPod touch.
1885. A zombie outbreak is ravaging the Western Frontier. Death is everywhere, but there's plenty of money to steal if you can get to it alive.
Take charge of a gang of outlaws looking to pull a legendary heist in the middle of zombie country.
A NEW TYPE OF TOWER DEFENSE GAMEPLAY
Not only DEFEND your stronghold, but for the first time ever order your henchmen to ATTACK the zombie base!
PLAN YOUR ATTACK!
– Order henchmen into battle, ranging from speedy scouts to slow burly brawlers.
– Time the waves of your attacks to exploit weaknesses in the zombie defenses.
– Strategically spend funds to boost your men's Speed, Health, and Resistance for the perfect assault.
DEFEND YOUR STRONGHOLD!
– Command a posse armed with Six Shooters, Shotguns, Molotov Cocktails, and Gatling Guns to make a stand against those brain-thirsty zombies!
– Upgrade your weapons to inflict even more damage with devastating special attacks.
MULTIPLAYER
– Two modes to square off against you friends:
– Head to Head: Play against your friends wirelessly
– Hotseat: Pass and play on a single iPhone or iPod touch
CLASSIC FEATURES [FREE]
– Quickplay Mode throws you right in the middle of the action!
– Campaign Mode takes you along on a bank heist to hell and back!
– Multiplayer immediately available.
– 7 different maps.
– An edgy art style that soaks the Classic Western in the gore of Zombie Horror.
– Original soundtrack written & performed by the band Tomcat Combat.
ZOMBIE IN-GAME EXPANSION [$0.99]
– Play as the Zombies! New powers! New strategies!
– 7 additional maps!
– Lead a zombie hoard of Biters, Screamers, Hurlers, and Swarmers to MORE BRAINS!
– Campaign Mode features a storyline from the Zombie perspective!
– Zombie faction unlocked in Multiplayer.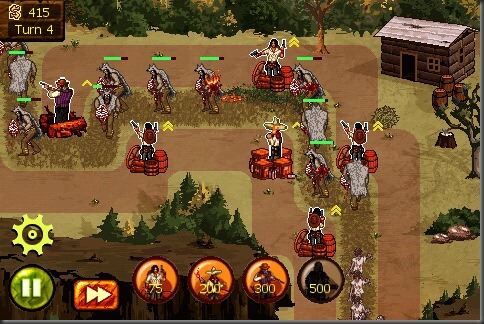 Check out the Gundead Defense review on TouchArcade
Other Articles of Interest:
Zombies, and helicopters, and bombs oh my! A line drawing zombie rescue game. Well now that sounds fun! Actually, this looks pretty damn entertaining!
'Zombie Escape' Hands-On Preview with Video
Other Articles of Interest:
Fans of dual stick shooters, dungeon crawlers, and Gauntlet will be right at home rampaging through the halls of Catacombs. Catacombs comes loaded with 24 dungeon levels, with a level pack that has another 24 forest levels available for an additional 99¢.
'Catacombs' – Dual Stick Dungeon Crawler Released
Other Articles of Interest: