App Description
This is an amazing Match game. Click the area that have two or more SAME Halloween ghost face to free up the board and get the score.Its the best way to enjoy your spare time.
Still agonized by the loading page or complex startup procedures? Here comes the Crazy Halloween Click! Click and you can jump into game and play immediately. It will bring you brand new experience. Simple wizard, auto-save/load, quick response, attractive icons and well designed sound, you'll fall in love with it at almost the first glance.
Eight difficulty levels for challenging, you can re-play any of the passed level at anytime to achieve a higher score.

Other Articles of Interest:
It's not all about Paranormal Television, sometimes you just want to go running around laying waste to Zombies and other diabolical creatures of the night. I haven't downloaded this one yet, but as you well know, I'm a sucker for these types of games. It looks pretty interesting and for $0.99 I hardly think I'm losing out on anything. So give it a try and let me know what you think.
To the App Store!
In Ghosts'n Zombies you play as a bushy-eyebrowed, cigar-smoking, shotgun-toting monk who apparently was dispatched from the Vatican to investigate a mysterious haunted chapel. Upon your arrival, you discover the church is absolutely loaded with rats, ghosts, zombies, and other demons. So, as an agent of the Vatican, what do you decide to do? Shoot everything that crosses your path of course.
Read more about 'Ghosts'n Zombies' – Vatican Ghostbusters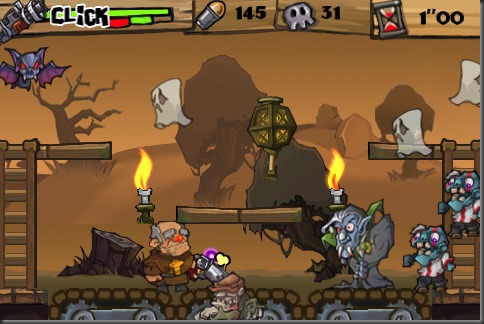 Other Articles of Interest: