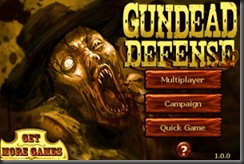 GUNDEAD DEFENSE – Wild West Zombie Tower Defense
The ONLY MULTIPLAYER Tower Defense Game for the iPhone and iPod touch.
1885. A zombie outbreak is ravaging the Western Frontier. Death is everywhere, but there's plenty of money to steal if you can get to it alive.
Take charge of a gang of outlaws looking to pull a legendary heist in the middle of zombie country.
A NEW TYPE OF TOWER DEFENSE GAMEPLAY
Not only DEFEND your stronghold, but for the first time ever order your henchmen to ATTACK the zombie base!
PLAN YOUR ATTACK!
– Order henchmen into battle, ranging from speedy scouts to slow burly brawlers.
– Time the waves of your attacks to exploit weaknesses in the zombie defenses.
– Strategically spend funds to boost your men's Speed, Health, and Resistance for the perfect assault.
DEFEND YOUR STRONGHOLD!
– Command a posse armed with Six Shooters, Shotguns, Molotov Cocktails, and Gatling Guns to make a stand against those brain-thirsty zombies!
– Upgrade your weapons to inflict even more damage with devastating special attacks.
MULTIPLAYER
– Two modes to square off against you friends:
– Head to Head: Play against your friends wirelessly
– Hotseat: Pass and play on a single iPhone or iPod touch
CLASSIC FEATURES [FREE]
– Quickplay Mode throws you right in the middle of the action!
– Campaign Mode takes you along on a bank heist to hell and back!
– Multiplayer immediately available.
– 7 different maps.
– An edgy art style that soaks the Classic Western in the gore of Zombie Horror.
– Original soundtrack written & performed by the band Tomcat Combat.
ZOMBIE IN-GAME EXPANSION [$0.99]
– Play as the Zombies! New powers! New strategies!
– 7 additional maps!
– Lead a zombie hoard of Biters, Screamers, Hurlers, and Swarmers to MORE BRAINS!
– Campaign Mode features a storyline from the Zombie perspective!
– Zombie faction unlocked in Multiplayer.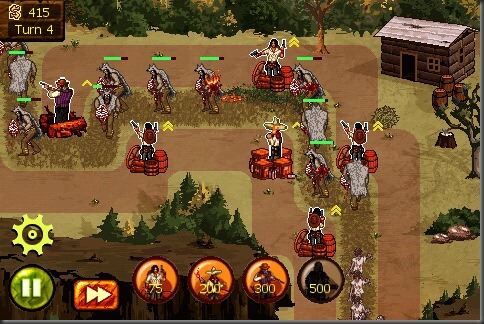 Check out the Gundead Defense review on TouchArcade
Other Articles of Interest:
Zombies, and helicopters, and bombs oh my! A line drawing zombie rescue game. Well now that sounds fun! Actually, this looks pretty damn entertaining!
'Zombie Escape' Hands-On Preview with Video
Other Articles of Interest:
Fans of dual stick shooters, dungeon crawlers, and Gauntlet will be right at home rampaging through the halls of Catacombs. Catacombs comes loaded with 24 dungeon levels, with a level pack that has another 24 forest levels available for an additional 99¢.
'Catacombs' – Dual Stick Dungeon Crawler Released
Other Articles of Interest:
Another Friday Freebie! I'm not familiar with this one, but it's Halloween related and it's free. I don't need much more of an excuse to download it!

App Description
*************
Monsters have stolen the Witch's brew, now you must get back the candy ingredients.
*************
HOW FAR CAN YOU GET? Compete on a global leaderboard by avoiding the legion of horrors to collect the ingredients for a fun Halloween.
OVERWHELMED? Collect enough candy and unleash a deadly lightning attack, destroying the approaching horde.
Some enemies are vulnerable to the Witch's Broom. Poke the Evil Eye or the Floating Zombie's Balloon to clear the path ahead.
VARIETY OF HORRORS:
-Floating Zombies
-Evil Eye
-Vampire Bats
-Flaming Jack O'Lantern
-Creepy Ghosts
-Bloody Butcher Knives
-and more!
FEATURES:
***** Open Feint *****
***** Global LeaderBoards
***** Achievements
***** Friend List with Facebook
integration
***** Random Levels: Never the Same Game Twice!

Other Articles of Interest: