No zombie invasion would be complete without a look at Plants vs. Zombies. Instead of growing plants and creating mutated zombies (which is awesomely cool!), you must grow plants that defend against the mutated zombies. The mindless drones are coming to invade your garden and you must do everything in your power to keep them at bay. Each one of your plants does a different kind of damage that could bring the zombie to his knees or at least lop off his head.
Can you build the right combination of defense to defeat the growing horde? It all sounds so simple, but that's what they all say right before things go sideways.
PopCap has ported over their insanely popular game to the iPad. It looks and plays exceptionally well. As you advance you get more and varied kinds of plants, each doing more and different kinds of damage. But as you get better, so do the zombies. There's more of them, and they've got armor. Sure, a road cone on the head may look silly, but it's enough to keep them coming right at you. It only takes a few minutes to understand the rules, but building up the right combination of defenses takes patience and skill. Should you unleash the fury of the buttered popcorn or use the butter and the corn?
And now that Plants vs. Zombies has gone HD with the iPad, you get plenty of room to plan your defensive strategy.

Other Articles of Interest:
Back in July of 2009 I got a copy of Zombieville and thought it was one of the best games I'd played. And now that zombies are front and center again, it's time to bring out Zombieville. But wait, there's something new. Not only has the game gone through some massive updates and gotten a slew of new content, there's an iPad version! It's bigger and better than before with some new weapons, there's even some vehicles you can use and you might actually find some other survivors to help you out. Once you've had enough fun growing zombie minions in Zombie Farm, you can flip the coin, grab your gun and ball cap and head out there to blast their damn heads off!
With the new content, Zombieville has been updated with a whole slew of new characters that have unique abilities and strengths. Some collect more money, some are stronger, some handle certain weapons better, some have better defense. Each character has a whole new look, and you can even fight off zombies while you look like a clown. F-this clown!!!
The controls have also been improved. You can switch guns with the touch of a button and breaking into homes and looting them for all they're worth is much easier this time around as well. They've really taken user feedback and improved the game in a variety of ways. Lots of really good updates. I haven't played Zombieville in awhile and clearly I'm missing out!
If you want to live the cartoon ZombieLand experience then you need to get this game. I have the iPhone version, but I'm going all in and getting the updated iPad version. It'll be just like blowing them away in 3D! Minus the 3D part.
Here's a quick gamplay video.
And in case you're wondering, there are 99 grueling levels to get through, but let's be realistic, most of us will never get there…
But we can dare to dream…
Other Articles of Interest:
I stumbled across this game over the weekend and I admit I've been playing it ever since. I can't say I've played too many farming games, but there is something about growing zombies and zombie mutations that just made me want this game.
Zombie Farm is a casual little game where you tend to your farm in the countryside where you grow various vegetables like carrots, tomatoes, onions, turnips and potatoes and then take them to the market to sell for a profit. The way this game works, that alone could be amused, oh but there is so much more. You don't just grow vegetables you are a farmer with a green thumb and an ability to grow zombies. You plant them in your garden, tend to them, then wait for them to spring from the earth and join your zombie herd. And then what do you do? Well, invade other farms of course! Once your zombie army is built up you attack your neighbors and loot them for everything they're worth including money, farm equipment and brains.
Brains will keep your minions happy and it allows you to upgrade to bigger and better things. You can upgrade zombies, create bigger and badder mutations, buy headstones and other adornments to decorate your undead garden, as well as sell them for big money if you need to.
Quite frankly this game is silly and awesome. I have to say, the graphics are really very good, and even though I'm playing it on an iPad everything looks just fine. In fact I think the iPad might make it easier to select and move things. The developers, ThePlayForge, have put a lot of time and effort into making this new style of farming sim. Everything works extremely well and you can waste hours tending to your garden and plotting your next invasion (which I have). But don't just plant some seeds and wander off thinking you'll get back it when you have some spare time. Oh no! Your garden needs to be tended to and if you go to long without checking in on it your crops will wither and die on the vine. Your zombies will be the real dead rather than just the undead. And when this happens you have a huge mess to clean up. Not to mention seeing the decaying arm of a zombie slouched over in the ground is just heart wrenching.
Zombie Farm is incredibly enjoyable, but the part that will throw you for a loop is that it's FREE. You can begin to raise a zombie horde for no initial investment. However, If you want to move through the game faster or just thank the devs for a job well done, you can buy more brains and other improvement as an in-app purchase at any time.
This game is well worth the download and not only is it a good game, the zombie aspect just adds even more fun!

Other Articles of Interest:
Can you ever have enough games featuring Zombies and Aliens? And for $0.99 this is some serious, mindless entertainment. And just in time for the weekend! Blast way Zombie Hunter!
2012 Zombies vs Aliens falls into an action/strategy nook that pits you, as either the alien or zombie race, in trench warfare versus the other side.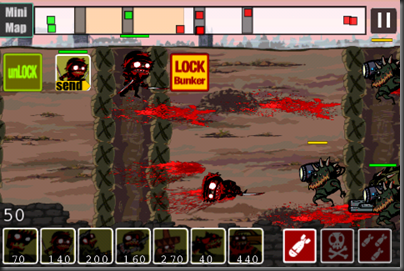 Read the full review at 148apps.com
Buy 2012 Zombies vs. Aliens at the App Store
Other Articles of Interest: