Halloween in July
I'm starting really early this year. My computer already has its Halloween costume and is sporting the Rest In Peace 2007 Windowsblind theme. It's the same them I was using in October of last year, but I just couldn't wait any longer. Funny thing is, it works perfectly under Windows 7. If you're already looking to dress up your desktop this will take care of it in one click. Check out the picture below to see what the full theme looks like and check out this article to get some more ideas on how you can change the way Windows look. Personally, I think it should ship this way.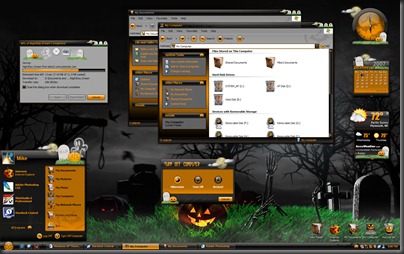 Halloween Desktops by Stardock
And don't forget, they have plenty of desktop wallpapers, icons and mouse cursors that you can change around as well. The MyColors theme costs a few bucks, but there's plenty of free stuff to be had as well.
Other Articles of Interest: