Bates Motel – Season 2 Premiere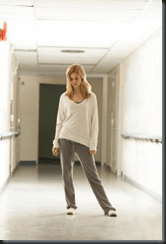 For the Season 2 premiere of Bates Motel we catch up with Norman 4 months after the murder of his teacher Miss Watson. Norman has no real memory of the events after the dance that took him over to her house nor does he have any idea where he got the pearls he keeps playing with. But, the life of Miss Watson isn't all it appears to be and we get the impression her past has more blemishes than her prim and proper demeanor would have us believe.
But apart from Norman sinking into depression and obsession about his teacher we have Bradley who's gone over the edge quite literally. Her tether to the earth has pretty much snapped and she finds herself on the ledge of a bridge. Alas, there is no one there to catch her as she makes her leap of faith. This lands her a plum position at the local sanitarium. After her therapy she's released, but she quickly goes over the edge another way.
It appears that Gil is intertwined with Miss Watson and perhaps the death of Bradley's father – the fiery accident we saw in the first season. Seems Miss Watson enjoyed the company of Bradley's father and Gil was none to pleased about this.
After some of the saucy details are revealed we find Bradley's over at Gil's house trying to learn the truth. It seems Bradley is pretty persuasive with a gun and one hell of a shot. Gil meets with a "premature" end and his brains meet the window. Bradley has severely stepped in this time by not only committing murder but by shooting the head of the drug cartel. Oh the wrath that will be coming.
But fear not, she has a desperate plan and ends up in the doorway of Norman's room asking for help. His boner for Bradley all but assures he'll do anything to help her.
Quite a riveting start to this new season. Mom is beginning to worry that Norman had something to do with the murder, a murder Norman has no recollection of. Sheriff Romero starts to wonder about Norman and his odd behavior. Bradley is off the deep end. And once again it seems that Dylan is the sane one in the family. And with Gil out of the way, is he going to step into the role of head of the organization? Lots of things in motion in this opener. Looks like we're going to learn a lot about Miss Watson and the "cartel" of the city. Norman will more than likely have some sort of breakdown so who knows will meet their end at his hands. And Norma will be so overbearing as to make someone snap. This should be one hell of an amusing season. I almost shudder to thing where this will lead us.
Other Articles of Interest: