Bates Motel – Caleb – S02E03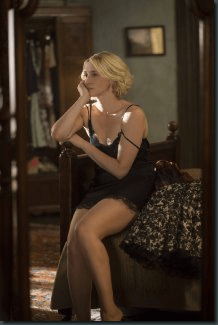 Things are getting downright creepy in the world of Norman Bates. In this latest episode we see Norma meet up with the Stepford Wives when she gets invited to the party that Christine is throwing at her insanely large and most likely paid for with drug money mansion. We also see Norman hanging out and attending Bradley's "memorial" with his new buddy Cody, the smart talking cashier he met when buying hair dye for Bradley and now one of the techs for the theater production his mom was rejected for. She seems to be a sassy, worldly broad with designs on Norman. How does he keep ending up with these ladies?
But the big and nasty part of the episode is the revelation about Dylan. Norma has been hiding a lot about her past including Dylan's father. Turns out it not who Dylan thinks it is. Oh my goodness, do we really have to go down this road? Is Norma just spouting her usual lies and mistruths or is this the real deal? Has Dylan been mislead about his father that Norma supposedly killed which caused all the strife in beginning? And did you see the way Norman threw his brother around like a rag doll? My word, when he loses his mind people get a serious ass kicking.
And let's not forget all the disparaging remakes being made about Miss Watson. It seems the entire town may have been hot for teacher and she wasn't one to say no.
Things are just getting bad. Bad, Bad, Bad.
So for next week we get to see the aftermath of Dylan learning the truth. Is he hanging out the window of his truck in a drunken stupor, because of brawl or perhaps him dealing with the news of parentage in a less than complimentary manner?
Other Articles of Interest: